It' s just time again and the Eurobike has opened its doors in Frankfurt. I can not be directly on site, because I am on vacation. Nevertheless, I have collected some fair & product novelties for you, which are interesting for bikepacking and bike travel.
Bikepacking System: Aeroe Spider Rear Rack
On Instagram and Facebook, this new pack system for bikepacking has been played in my timeline for some time and there are already some reviews about it. Now the New Zealanders from Aeroe present their offer for the first time in Europe. At its core, the idea consists of an easy-to-mount carrier system that holds a stuff sack.
The Spider Rear Rack is said to be compatible with all bikes and looks quite interesting. Once mounted on the chainstays, a pack sack can be mounted on top of the rack. This pack bag is held by so-called spiders. From these spiders you can then also buy three and thus create not only above, but also right and left on the carrier space for panniers.
The Spider Rack weighs 330g according to the manufacturer and the load capacity is 4kg. I assume per side. The whole thing is also available for front and allows the installation of a front roller.
Aeroe also supplies the bags. Among others, the 11l large Hardcase Quick Mount Pods, which can be installed via a separate attachment on the side of the Rear Rack.
Suspension stem: Vecnum FreeQuence
Vecnum is a company founded in 2014 from the Allgäu region of Germany, which has introduced a new suspended stem, the FreeQuence, which also immediately won the Design & Innovation Award 2022.
The stem is the perfect component for gravel bikes, cross racing bikes, touring bikes and unsuspended (e-)bikes. With it, we raise the benchmark among suspension stems to a new level, as it has been proven to absorb up to 75% of vibrations and shocks, reducing fatigue. In addition, the comfort and control on the unsprung bike is increased many times over.
This is made possible by a parallelogram design of the suspension, which is said to be more torsion resistant:
The handlebars do not tilt in contrast to sprung single-joint stems, the frame geometry is not changed in contrast to the suspension fork.

Due to the complex parallelogram kinematics, the spring characteristic is not influenced by the lever length – unlike single-joint stems. Whether in the hoods, drop or top position. The suspension or damping performance always remains the same and optimal.
The stem can be adjusted from 50 to 120kg, has a total of 30mm of travel (20mm positive, 10mm negative) and comes as a +3 degree version in 90mm, 105mm and 120mm lengths. According to the manufacturer, the weight is 287g (at 90mm) and costs 300 euros.
Gravelbike Made in Germany: Manufaktur83 "Vagabond"
Manufaktur 83 is a German gravelbike startup that has set out to build only hand-selected bikes.
The goal of the two founders Ben & André is to develop bikes that are reduced to the essentials and through the optimal matching of geometry and components, open up new possibilities for the rider in search of the next adventure.
With the Vagabond Classic, Pro and Iron, the former cross-country and MTB racers have built a gravel bike, which in its versions should offer all gravel bikers the right thing. New is the Vagabond Iron, which – as the name suggests – is built on a steel frame, with carbon fork.
The design is kept classic and in the Iron version the Vagabond comes with SRAM AXS Force in combination with Classified hub or with the Campagnolo Ekar available. According to the manufacturer, the bike weighs 9.7kg, which is quite light for a steel frame. The price is not yet fixed.
Alarm system: Knog Scout Bike Alarm & Finder
Especially if the bike is worth a little more, the new Bike Alarm from Knog is quite useful. The Scout Bike Alarm & Finder is mounted on the bottle lugs and activated via the smartphone. When the bike is then moved, an 85db loud alarm sounds. If it is still stolen, the bike can be located via Finder.
The Scout can be mounted with or without a bottle cage. The battery can be charged via USB-C and lasts about 6 months. The whole system is IP67 certified and weighs only 25g according to Knog.
Solar power: Knog PWR Solar
In March, this solar panel from Knog was already presented, but it fits just quite well also to the Eurobike. The new solar panel should be a reliable energy supplier, especially for the bikepacking trip or the bike trip.
The Knog PWR Solar features four monocrystalline panels with Sunpower Maxeon Gen 5 solar cells, which are also used by NASA and produce a maximum charging power of 10W.
I got a test model from Cosmicsports at the time, but first had to wait for sun. Then I tested it with a 10,000 mAh powerbank connected via USB-A. It took a little more than two hours until it was almost full – in ideal sunlight. LEDs on the solar module indicate how good it is.
The PWR Solar folds up, making it quite compact. Knog specifies the pack size as 175 x 105 x 35mm closed and 540 x 175 x 17mm opened.
In addition, the module has a handle "at the head", via which it can also be hung. The total weight is 450g. I find that a bit much. And I miss the possibility to be able to charge with the unfolded module while riding. You can do that, but for this the PWR does not offer any additional security or loops to fix it to the handlebar pulley or saddlebag. It is therefore primarily a charger for the camp and when a power outlet is not accessible for longer.
New generation USB charger: The Cinq Plug6 Plus
With Cinq, Tout Terrain has its own accessory/developer "unit" that, among other things, also develops a classic USB charger: the Plug. I myself still ride a plug on my touring bike, which still does its job.
In the meantime, however, much has been done in terms of charging technology and efficiency and with the Plug6 Plus Cinq now shows its latest model, which above all has a higher charging current and is still good charging even at slow speeds:
The fully encapsulated electronics reliably protect the Plug against environmental influences. It automatically detects when the light is switched on and acts dynamically with the end device to get the optimum charging current out of the dynamo. The Power Module provides enough current even when driving very slowly and even when stationary, so that the end device continues to be charged. Thus, even power-hungry devices can be buffered with up to 1200mA.
The new plug weighs 195g and costs 280 euros.
Evoc Bikepacking Update: Waterproof Bags & Hydro Pro Hydration Vest
One of the main topics at Eurobike was/is bikepacking in all its facets. Evoc has presented its revised bikepacking bag collection at the fair, which is now completely waterproof and also offers different sizes.
Evoc-typically here the Boa closure is used, which according to the press release has been refined even more.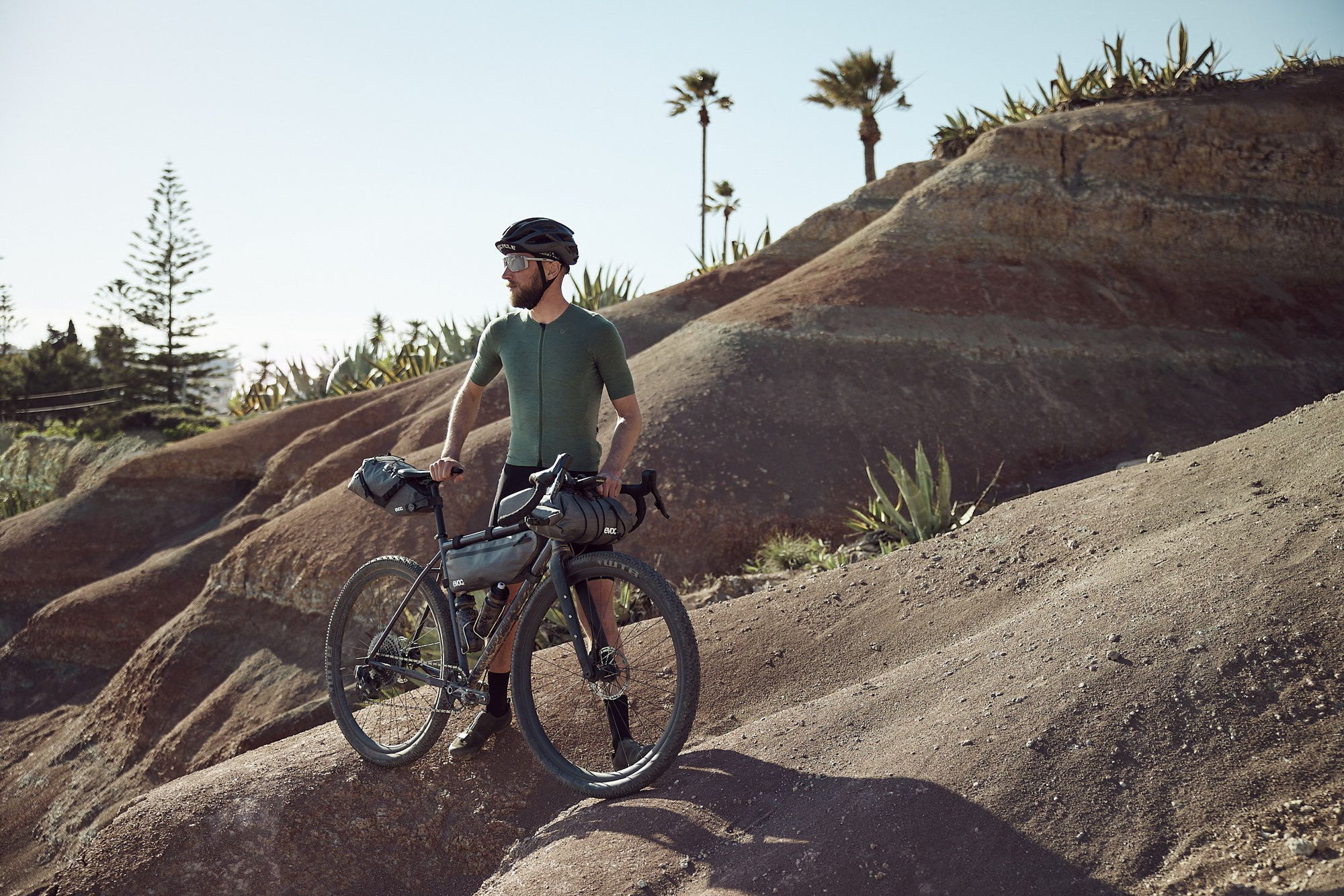 Hidden vents now allow compression of the contents in the bags with roll-top closure and revised cable channels on the Handlebar Packs also make it easier to attach to different handlebars. In addition, the entire collection is waterproof and has been equipped with fully taped seams and waterproof zippers. The Velcro closures have been replaced by extra high-quality and customizable Hypalon Velcro and reflective logos on all pockets increase visibility in the dark.
The Evoc Handlebar Pack is available in the new collection as a 2.5L and 5L version. The Seatpack with Boa closure is available in four versions: 6L, 8L, 12L and 16L. There should then be something for every occasion. If it should only be something small, then Evoc has its waterproof 2L and 4L Seatpack on offer.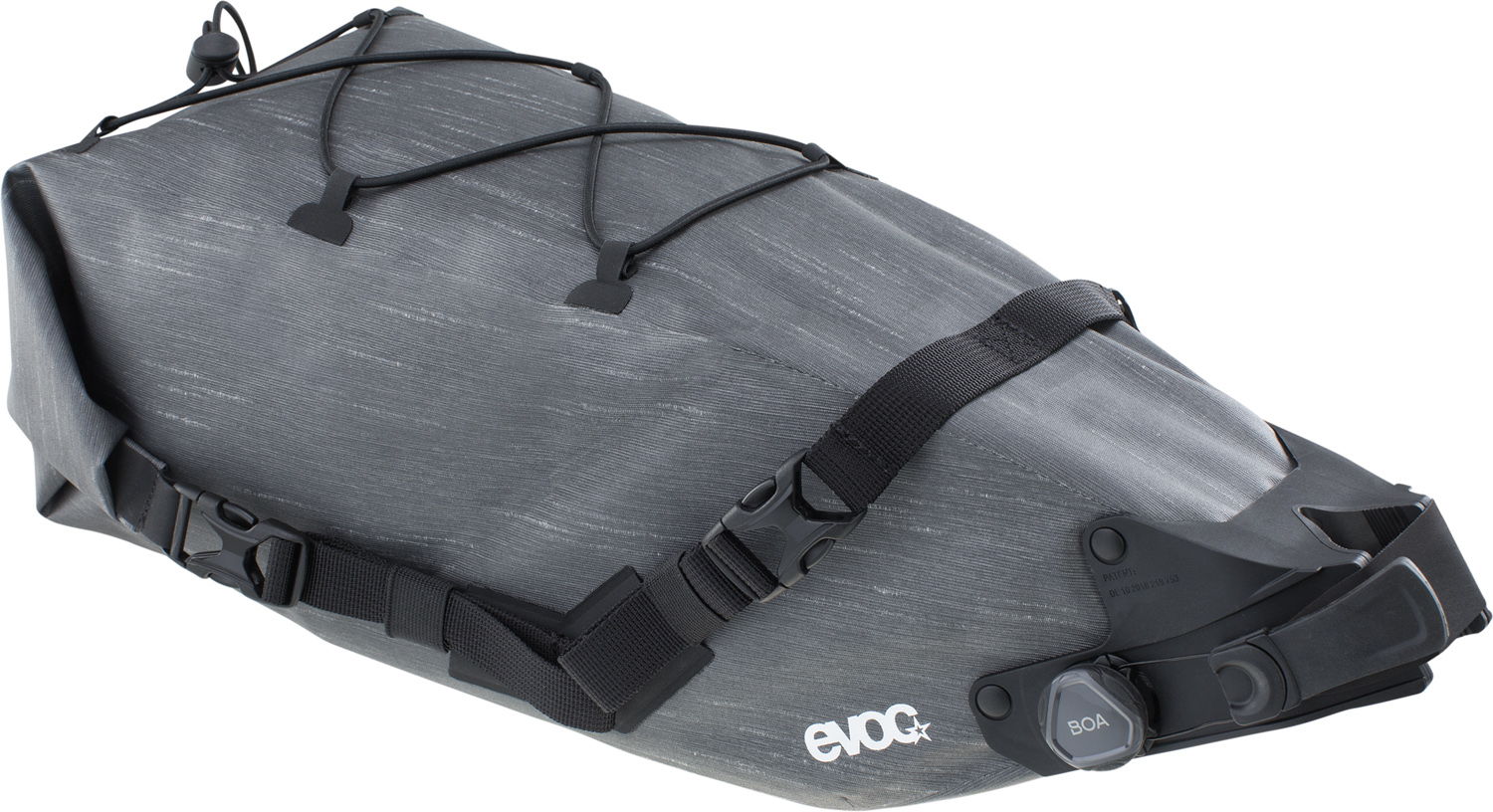 For the frame, there is the Evoc Multi Frame Pack in sizes S and M, which can be attached to the frame in a variety of places. In addition, the classic frame bags in S with 1.5L volume and M with 3.5L volume.
For the top tube there is a classic top tube bag and particularly interesting I still find the Evoc Tool Wrap, which is attached to the saddle like an Ass-Saver and offers space for some tools.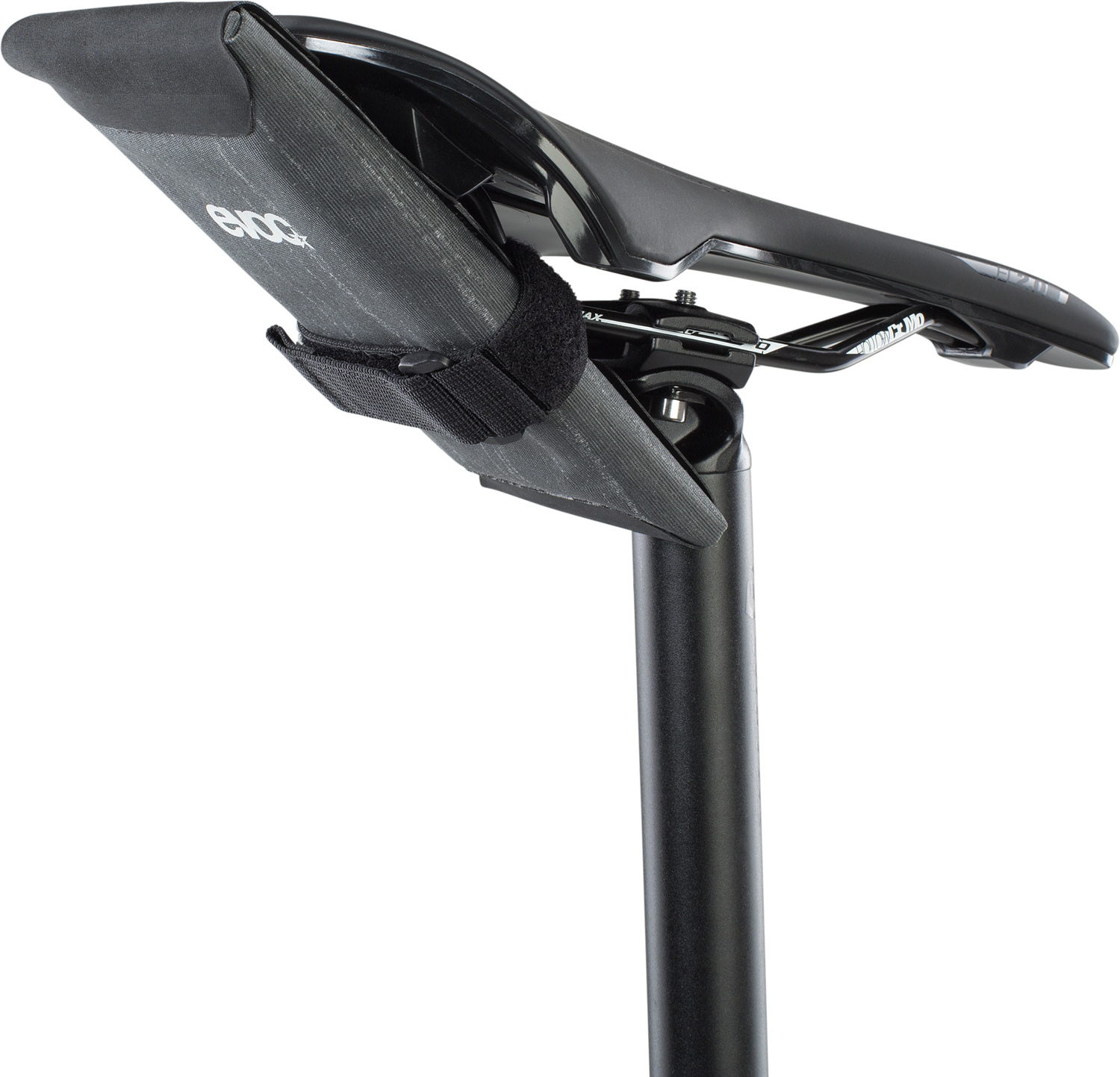 Evoc HYDRO PRO hydration pack
Not directly to the Eurobike, but a few weeks ago, Evoc has also presented a new hydration pack: The Evoc Hydro Pro comes in 1.5 and 3L versions and has a 1.5L hydration bladder on board.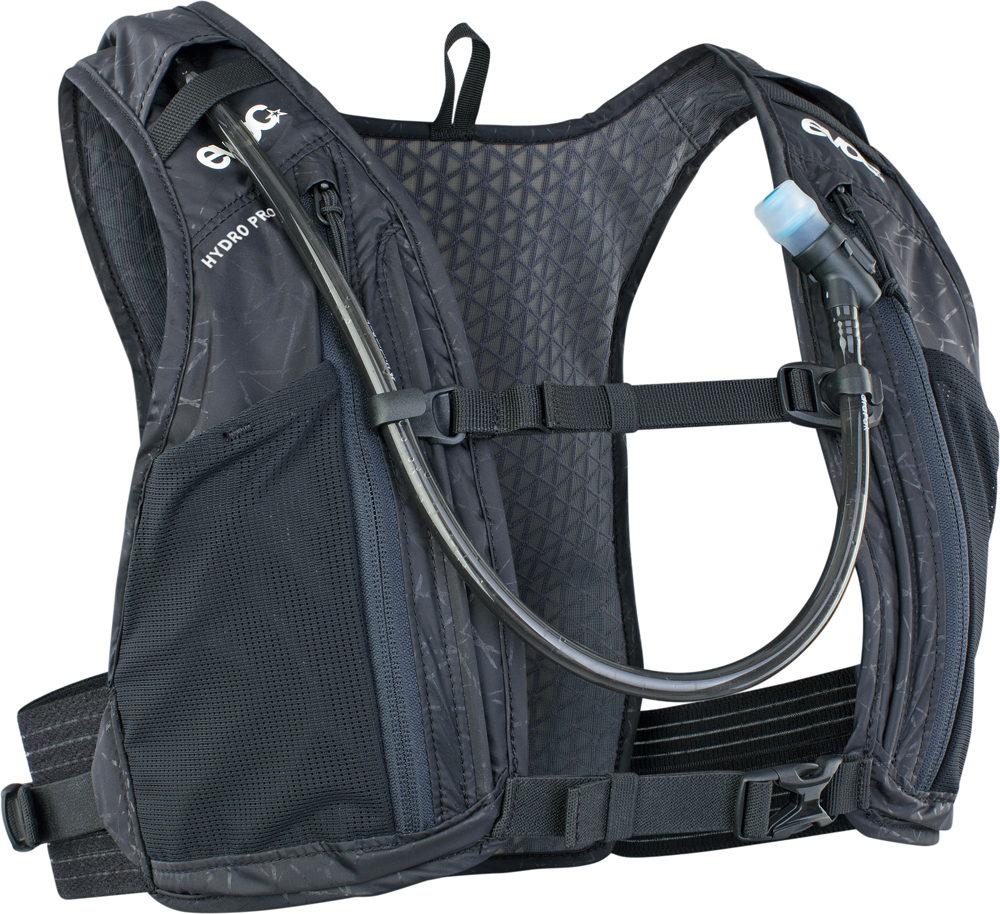 The 1.5L version weighs 230g, the 3L version 250g. In addition to the hydration bladder, the vest offers enough space on the straps for additional things, such as gels, food bars or phone and money. In the back, at least in the 3L version, there is enough space for extra stuff, like a light rain jacket, arm warmers or gloves and bike lock.
I rode the Hydro Pro 3L in the last few weeks and also contested an Orbit with it. The hydration bladder was really helpful in view of the high temperatures and the smart hose guide with the strong magnet for me particularly worth mentioning. I also had all what I needed still in the hydration pack and could thus start without a frame bag. Honestly, I have thereby also come to taste and will now be more often with hydration pack on the road. An important question was always asked me about it: I filled the bladder with water and it tasted normal and without any off-taste from the start. Absolutely neutral and good. The bladder, the mouthpiece and the tube can also be cleaned very well and easily.
High beam with approval: Supernova M99 DY Pro
Markus Weinberg already had it with him at the Tour Divide, Sofiane too, and here and there you could already see it: the new Supernova M99 DY Pro. With up to 1,000 lumens and 200 lux, this dynamo-powered front light is not only very bright and therefore particularly useful for bikepacking races, where you often ride through the night and darkness.
The light is also the…
…the world's first dynamo-operated LED headlight with high beam function and German road approval.
And it adjusts its brightness to the current speed. This makes my ears prick up, because I currently ride a Klite Bikepacker V2 Ultra, which is also very bright, but not officially approved in Germany.
Thanks to new innovative control electronics, the new SUPERNOVA M99 DY PRO with its matrix of 9 POWER LEDs achieves light values of up to 1,000 lumens and 200 lux.
However, the M99 DY Pro is not compatible with USB chargers. Of course, this restricts it again if you don't only orient your energy management towards power banks. In any case, I would like to test this lamp. I will report back.
The price is 325g, the weight is 120g according to the manufacturer.
Deuter goes Bikepacking
Now Deuter is also getting into bikepacking with the Cabenzon and Mondego series.
Not much info is available yet:
The Cabezon Series is deuter's first premium bikepacking assortment designed for explorers who want a sophisticated, waterproof and lightweight bikepacking set up with easy handling and reliable riding.
The Cabezon series has four bags on offer: a Handlebar Bag with 14L built as a harness, a Saddle Bag with 16L (also as a harness, as far as I can tell) and two frame bags in 4L and 6L versions and zipper on both sides.
There are also four bags in the Mondego series: a Handlebar Bag with 8L and designed as a classic-looking handlebar bag. A classic saddle bag with 16L and two frame bags in 4L and 6L size.
The Mondego Series is the second bikepacking line in the assortment. This line is designed for the entry-level adventurer who wants a practical and dependable bikepacking set up at a slightly more accessible price point.
Let's see what initial field tests have to say about it.
Tires for Performance Gravel: Schwalbe G-One RS
I had already said it here and there: Schwalbe has left a very good impression on me with the G-One tires. I had the G-One on some test bikes and could thus also get a good impression. Most recently, the G-One R on Böttcher Gravelbike, which I liked very much.
To the Unbound Gravel Race Schwalbe had presented a few weeks ago the G-One RS, which could present themselves then also immediately very successfully.
Schwalbe's "G-One RS" is, according to their own information, their fastest gravel tire and mixes cyclocross grip with road bike speed. A special scale structure is to make the tire particularly fast and the angled side blocks are to improve the grip under braking. The outer edges provide traction when going uphill. The thicker carcass protects the sidewalls and a high-tech fiber (V-Guard) provides puncture resistance.
According to Schwalbe, the RS weighs 505g, has a load capacity of 70kg per tire, comes in widths of 35,40 and 45mm and costs around 70 euros. The price indicates a special blend.
UPDATE 1:
Schwalbe G-One Overland: "The Leatherman in Schwalbe's Gravel Line"
Also new in Frankfurt was the Schwalbe G-One Overland tyre, which is also very interesting. It is available in widths of 40/45/50-622 and, above all, does without the visually unappealing sidewall. Apart from that, according to Schwalbe it is the gravel tyre for adventure and commuting.
Of course, there are worlds in between, but according to Schwalbe, the tyre is designed 50% for gravel and 50% for asphalt and has a good smooth ride.
With its versatile tread, the new Overland tyre bridges the gap between gravel and touring. What makes it unique is its extreme durability. (…) The Super Ground carcass, which is also used for example in Schwalbe's Racing Ralph MTB tyres, provides puncture protection and high resistance with three carcass layers under the tread and the continuous Snakeskin fabric – on asphalt and for off-road use.
It is also advertised as a tyre for Bikepacking and Graveltravel. According to the manufacturer, the tyre weighs 515g and comes in the Superground version with the Addix Speedgrip compound. So it's fast on the road and has enough grip off-road. To be honest, I find it quite interesting. Let's see if I'll get it. The price is 65 euros, which is above average. But still far below Rene Herse.
Ortlieb with Bikepacking updates
Ortlieb also has something new in Frankfurt. For example, a world premiere: the Ortlieb Handlebar Pack Plus. This is an 11L handlebar bag that can be attached to various handlebars using adapters. It has a carrying strap, two mesh outer pockets and an integrable inner pocket. It weighs 500g and can be loaded up to 5kg.
The Handlebar-Pack Plus is loaded from the top and closed waterproof by roll closure. It is also ideal for gravel and racing handlebars due to its narrow design of 32 centimeters. Side pockets allow the stowage of small items or snacks on which should also be accessed during the ride.
The handlebar adapter is equipped with the well-known QR system, which is attached to the handlebar by "cable pull". Unlike the Handlebar Pack QR, the new Handlebar Pack Plus is only clicked into the adapter and is not attached to the handlebar by Quick Release (cable pull). The adapter weighs 150g.
The waterproof handlebar bag can be used with all five separately available handlebar mounts, depending on the intended use and preference. The (…) Handelbar-Pack Plus thus closes the gap between bikepacking and bike touring.
In addition, Ortlieb showed a new variant of the Frame-Pack Toptube and Frame-Pack RC Toptube. This well-known frame bag with zipper or roll closure is now also available as a smaller 3L large variant.
Furthermore, the Ortlieb Fuel Pack called new cockpit / top tube bag with magnetic closure was announced (also a world first). I was able to test a prototype a few months ago and will later write separately about this bag, which I find to be extremely successful.
Pelago Thórsmörk: The All-Rounder
This is really an eye-catcher: the new Pelago Thórsmörk is a hardtail MTB, with sufficient tire width, designed for bikepacking and agile riding on trails and gravel terrain.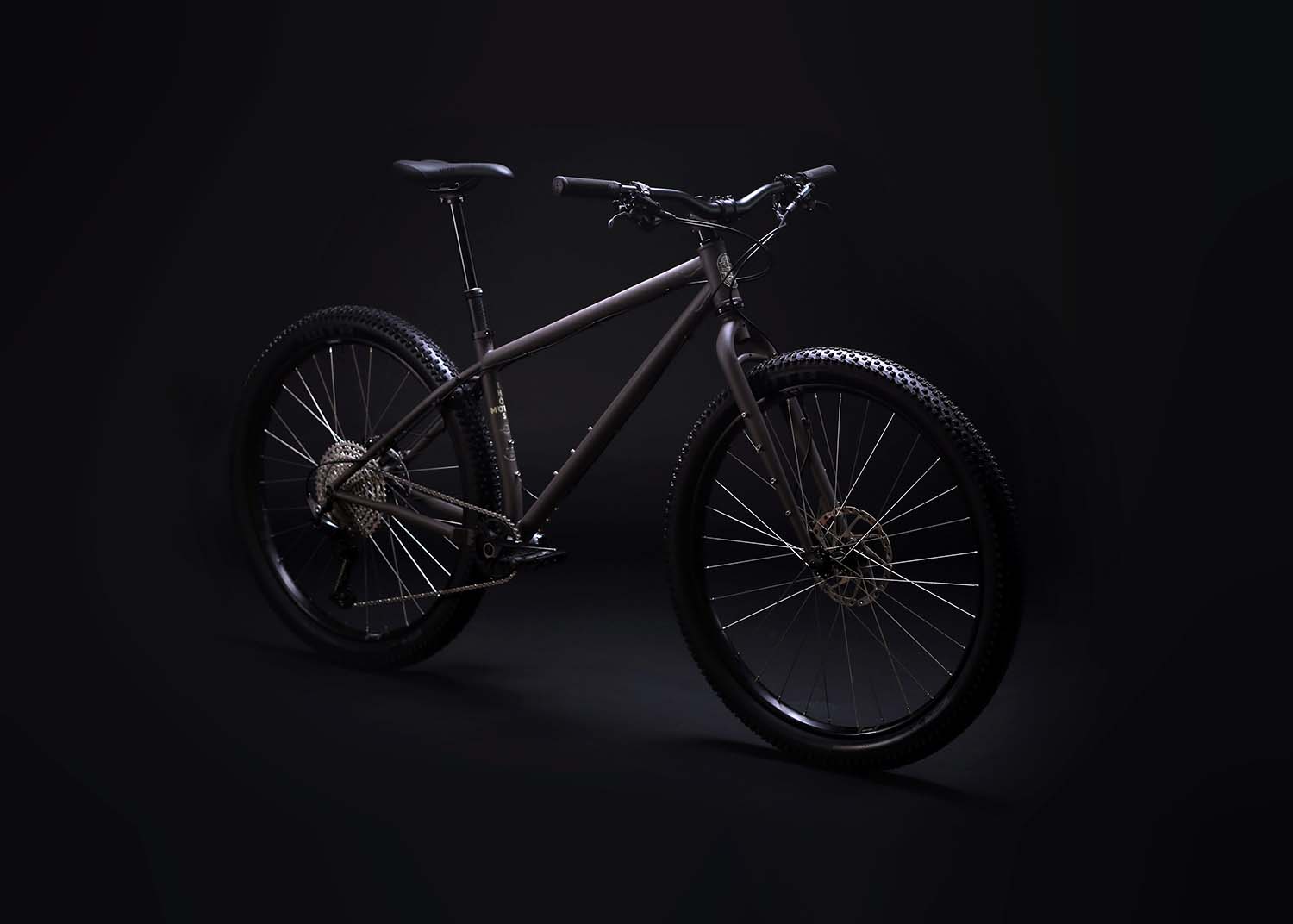 And if you read the accompanying text from Pelago, you might also think that another new gravel bike is being announced here:
Stretching beyond microadventures and paved roads, new terrain becomes one step easier to conquer / Beyond microadventures and paved roads, new terrain becomes one step easier to conquer.
But it's an MTB whose name also immediately sets the direction: a hilly landscape in the south of Iceland, named after Thor. It can accommodate 29 as well as 27.5 inch wheels, up to a tire width of 2.6″ (for 29) and 3″ (for 27.5). It comes with dropper post and rigid fork, but can also be set up with suspension fork according to your own preferences and usage scenarios. This is also ensured by the 44mm head tube, which allows a variety of forks.
This jack of all trails is for riders who seek a multipurpose bike for off-road adventures, multi-day bikepacking trips and trail-fun.
For this, the Pelago Thórsmörk offers many mounting eyelets on the CrMo frame. The fork alone already has four eyelets on each side. It is sold as a frame-set for about 1,300 euros and is probably available from mid-2023.
I now make the very big throw and claim that such bikes (there are already a few of this variety) show the future of gravel bikes. Namely, bikes that can really be on the road in the terrain, which are already shown and first choice at the Bikepacking Races and by their off-road suitability, off-road touring design, with simultaneous comfort and Bikepacking focus for me the logical "further development" of the current Gravelbikes / the current Gravelbike high are. A few of the comments in the Bikepacking.com article on the bike also point in this direction. Or maybe it's just me that sees it that way… 🙂
Are you at Eurobike right now and have some more interesting news? Then bring them on!
I'll definitely be there next year. Maybe…