On September 2, the Bohemian Border Bash Race will start and this time I will be there. Last year I unfortunately got Corona shortly before the start, so I'm trying again.
1,360 km and around 24,000 metres of altitude are waiting for me in Bohemia. Even though the asphalt/hard road surface part is quite high at 966 km (according to Komoot), the race will be very challenging. And I am really looking forward to it. I'm currently pretty fit, training well and ready to go.
Even though it's almost always the human factor, it takes a good machine to bring everything to full fruition. In my case, it's still the Salsa Fargo Titanium. More than 25,000 km have now been covered, including the Atlas and the Silk Road Mountain Race. My Fargo is a custom build and I am always rebuilding a lot, if not everything.
This often has to do with curiosity, which then leads to new parts. But mostly it's wear and tear and I have to replace things. And it feels like that happens quite often. However, I also try out a lot. That's a luxury I allow myself. My motto is: it's better to have an idea than an opinion. So I try it out myself and then talk about it. Sometimes it's expensive, but I enjoy it.
The last time I updated my Fargo, I added new rims (Lilienthal XC), a new seatpost (Ergon Carbon CF) and new gears (Sram Eagle GX AXS).
To make a long story short:
The Lilienthal XC rims have broken or cracked twice. The first time after 1,300km. They were replaced. The second time was 5,000km later. I then gave up on Lilienthal. Thanks to Lightwolf, the return and refund worked out fine. And also the rebuilding. More about that below.
The Ergon CF Allroad Pro Carbon seatpost is really good. I love it and have ridden it for around 9,000km. Unfortunately, I always had to tighten it a bit more than the allowed NM at the Fargo, because otherwise it would have always slipped in. This has led to pressure marks, which is why I no longer take it with me on the BBBR.
Apart from that, the CF is a great seatpost, which also survived the Tour Divide (as far as I could see) with Mathias Müller (BIKEBild), for example. Now my Thomson Elite seatpost is back on.
The Sram Eagle GX AXS – I wouldn't want to be without it. Electronic shifting is such a comfort and very precise. I've been riding it for 9,200km now. There have been no battery problems. I also carry a spare battery. It is quick to fit and very easy to adjust. A clear recommendation from my side.
But of course some parts have fallen by the wayside, which I have now replaced before the race in Bohemia:
The Salsa Firestarter 110 Deluxe fork. Unfortunately for the second time. More about this below.
The headset, as this is related to the fork damage. And it was also worn through after the demands of Morocco and Kyrgyzstan.
The bottom bracket, simply because I got a new one that should last a lifetime.
The Hope brake discs (floating), which have unfortunately become too thin (<1.5mm). They have lasted 8,000km. Now I have the Jagwire Pro LR2.
The Sram Eagle GX cassette and chain, which have now run for over 8,800km and still work very well. And even when I accidentally pulled the old chain onto a new cassette, they both worked together without any problems or jumping.
The wheels
I was so proud of my first carbon wheelset. The riding feel, stability, directional stability, power transmission and thus propulsion are simply better than I had previously known with aluminium wheels. Unfortunately, the Lilienthal XC rims were not the right choice for me. After an Orbit and a few training kilometres, cracks unfortunately appeared at the front and rear. The complaint went smoothly (also thanks to Lightwolf) and obviously there was a production process problem.
Then came new XC rims and these lasted at least 5,000km. Then the cracks at the spoke holes were too big to ignore. Again, wonderful support from Lightwolf. But I have now decided – and Lightwolf was also of the opinion – to move away from Lilienthal. Since I know of very good experiences with Beast and especially the Beast XC30 rim, I decided to go for it. For an extra charge, of course, but now I have Beast XC on my Fargo. At the front with the SON28 and at the rear with the DT-Swiss 240 hub.
For the Bohemian Border Bash Race I decided to go with Schwalbe G-One tyres in 50mm width. I have had very good and puncture-free experiences with these over the last almost 5,000km. In addition, given the track, I am very comfortable with these tyres on asphalt and off-road. I ride the Schwalbe G-One Ultrabite in the front and the Bite in the rear. According to the manufacturer, this is also supposed to be an excellent combination. Let's see…
And for the data fans among you, here are the weight figures in comparison – without brake discs. However, the weight was not decisive for me when choosing carbon rims.
Front wheel old with DT-Swiss HX 491 and Vittoria Mezcal 2,25 inch: 2.100g
Front wheel new with Beast XC30 and Schwalbe G-One Ultrabite 50mm: 1,802g
Rear wheel old with DT-Swiss HX491, Sram Eagle GX cassette and Vittoria Mezcal 2.25 inch: 2,283g
Rear wheel new with Beast XC30, Garbaruk cassette and Schwalbe G-One Bite 50mm: 1,803g
The fork and headset
After the Atlas Mountain Race – I'd only had the Fargo for 3 months – I noticed pressure marks on the steerer tube during maintenance. Salsa replaced it via Cosmic Sports as a gesture of goodwill. Now I've been having problems adjusting the fork play for a few days. I then removed the fork and again found these marks in the same place.
After consultation with Cosmic Sports, they gave me the urgent advice not to ride with this fork again. But this time, unfortunately, there was no goodwill settlement, because according to Salsa, the marks indicate riding with a loose headset. Well, I would have noticed that and when I noticed it, I reacted.
The "play" and the damage to the fork were probably caused by riding with a loose headset. In addition, the customer should ensure that he follows the specification of a maximum of 50 mm stack spacers between the stem and the top of the headset and at least 10 mm above the stem. This is to ensure even clamping forces on the steerer tube.
This was indeed different in the meantime, because during the bike fitting we put my stem all the way down and also kept tinkering with the stem. In addition, my steerer tube is simply too short to achieve the correct stem height and more than 10mm above the stem. It all fits according to the Salsa specifications, but it can also be different if, for example, a bike fitting comes to different suggestions.
I would recommend investing in a new headset (cups and bearings), a small portable torque spanner for adjusting preload on the go and finally a new fork.
That's what I did, also because Josh from Press Service Bicycles gave me another tip that such marks on the steerer tube can also occur due to the stem's conical ring, which can work its way in there even if everything is properly adjusted.
But I have now bought a new Firestarter fork (640 euros – expensive hobby!) and a White Industries (ZS44/EC44) headset. The old headset was also worn out. And since there are hardly any workshop appointments at the moment, I removed my old headset myself and installed the new one. Now everything is correct and nothing wobbles.
Judging by the dirt on the head tube, the bike is probably ridden hard and fast. Solid and consistent maintenance should still not be dispensed with.
Thank you for that. And yes, it is ridden fast and hard, but that's what the Fargo is for. And maintenance is done regularly, of course (also because a lot of things break on my bike anyway), which is why I hope that the fork will last longer now.
Bottom bracket and cassette
Enduro MAXHit
(Advertising, as test position)
In spring I was offered the chance to test the Enduro MAXHit BSA30 bottom bracket, which according to the manufacturer lasts a lifetime. Enduro Bearings is an experienced bearing manufacturer that produces headsets and bottom brackets for a whole range of well-known brands. These include, for example, Orbea, Kona, Marin, Niner, Santa Cruz and Trek.
The special feature of the MAXHit bearing is that Enduro uses larger balls. The bearings are made of 440C stainless steel, which makes conventional aluminium bearing shells superfluous.
Furthermore:
Enduro Bearings also uses the bearing shell as the outer bearing ring, eliminating the need for a pressed-in bottom bracket. This means that 8 times larger bearing balls can be used. At the same time, the contact area of the balls with the bearing rings has been increased. The results of extensive tests show a doubling of the maximum load capacity, which is reflected in a significantly longer service life and long-lasting smooth running of the bearings. (…) Maxhit components come with a lifetime warranty.
The MAXHit bearing consists of two parts that are screwed in normally. There is no need for a casing in between. Once installed, the bearing does what it is supposed to do: run without making any noise. I have been riding it for 2,700 km and hope very much that I can continue to use it for a long time.
A comprehensive test report shows that this is probably the case. The longer the Enduro bearing runs, the better the efficiency stabilises and the performance does not drop.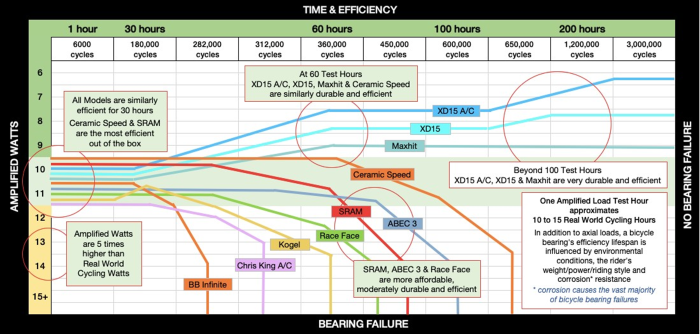 You can find the test report with all the details and lots of information about bearing production and challenges here.
Cassette & chain
The SRAM Eagle GX cassette and chain also run longer than expected. I wanted to see how long they would last and I was surprised. For 9,200km, both have been working together without complaint. I maintain them with SquirtLube or Toniq Chain Wax. That makes them last longer.
Of course, the efficiency will not have been optimal at some point, but I honestly don't notice that. For me, the decisive factor was that these expensive wear parts pay for themselves. I have now fitted them to the second wheelset, as I want to ride the BBBR with a fresh set of Garbaruk 12-speed cassette (10-52) with Sram GX chain.
Crank, only shorter
Actually, this was the end of the article, but I have now shortened my Hope Evo crank on the advice of my bike fitters: the previous 175mm crank has given way to a 170mm. And I have to say that the difference is noticeable and very clear. If you can feel more efficiency, it's here.
I have heard this from others who have adjusted their cranks accordingly. But when you experience it yourself, it's really great. Let's see if I have to make any further adjustments now. I have of course changed the height of the saddle accordingly. I might even lower the stem. After the race.
So, that's really it. Bohemia can come…