Please note:
Busch+Müller/Pressedienst Fahrrad has provided me at my request the lamp for a test. Therefore, this is advertising.
Prologue
When it comes to light on the bike, I rather rely on hub dynamo-powered lamps. Currently, I ride a not German Road Traffic Licensing Regulations-approved combination of the Klite Ultra Bikepacker V2 front lamp and the Klite Qube taillight.
Outside Germany and especially off-road, the Klite is of course super and provides a massive light through its maximum 1,300 lumens and 180 degree beam. I drove it together with the Petzl Swift RL headlamp at the Silk Road Mountain Race and am still on the road with it today. In road traffic, of course, it is not optimal and also not appropriate, which is why I then drive it mostly angled and only with dimmed light.
Before that, I had the Busch+Müller IQ-X on the bike. This in turn is approved for road use and it has brought me well – together with the Petzl headlamp – through the Atlas Mountains. However, its light output of 100 lux is much more limited, but still impressive.
Both, Klite as well as IQ-X, but as dynamo-powered lamps have the disadvantage that they naturally decrease at low speeds in light output. This is especially when bikepacking off-road usually unpleasant. I compensate for this by the headlamp with its 900 lumens, but it would be good to have a very bright light field stable. In addition, hub dynamo-powered lamps always mean a slight efficiency disadvantage for the bike, because the hub dynamo is operating even when it is switched off.
Honestly, I always try to be as independent as possible when traveling. That also means independent of electricity and I reduce devices that need to be charged as much as possible. With a dynamo and USB charger (also Klite) I can charge my navigation system, my smartphone and also my headlamp on the road. And when it gets tight, I also have a 20,000 mAh power battery with me.
But if you ride a lot in the dark, need a very good light to be able to see the bumps and the terrain better and do not want to rebuild a hub dynamo, then it is well worth a look at the battery-powered lamps. Or even as a supplement to a dynamo-powered system for even more light.
Here, a lot has happened in recent years and now there are lamps with high luminosity and high battery performance. The currently brightest battery lamp (with road approval in Germany) has an output of 3,000 lumens or 450 lux. That means: very very bright.
Did you know?
Battery lighting on bicycles has been officially permitted since 2013 (in Germany). It is often used on sporty bikes such as MTB, road bike or gravel bike. It is important that the light-dark boundary is recognizable when riding and that a display informs about the charge status of the batteries.
(Source: Pressedienst Fahrrad)
But here we are already at the topic: when talking about light and luminosity, it quickly becomes subjective.
Some orientation is given by the two mentioned measurement standards: Lumen and Lux. Manufacturers sometimes use one, sometimes the other. Or both.
In essence, Lumen means the total amount of light emitted by a lamp. Simply said: the more lumens, the brighter. But: a lot of Lumen does not mean that the lamp is bright enough in the application. Simply having a lot of light doesn't help much. So it depends on the optics of the respective lamp and how it focuses the light beam and directs it to a certain area.
And that is measured in Lux. Often there are specifications such as 1 Lux corresponds to 1 Lumen per square meter. So if a lamp has 170 Lux, then that would be 170 lumens (light intensity) per square meter. But that doesn't really help me, because I can't imagine that, especially since I don't know how far away the illuminated area is, how the angle is, how the light distribution is and how much light is "swallowed" by the environment.
Therefore, any discussion about light is very subjective from the beginning and one would have to get a personal impression of each light first. In order to solve this problem somewhat, the manufacturers work with light pictures, on which then by means of markings is shown, how far and brightly and exactly the respective lamp shines with which achievement. This is quite helpful, but one does not know to what extent this corresponds to the subjective reality, or whether the images have been edited – sometimes even unintentionally by the camera during recording.
And so are then also my pictures and impressions to classify. I have recorded the luminosity and light output of the lamp in the test and try to give you an impression of the illumination. In the end, however, you must decide for yourself what is bright enough for you.
Test Busch+Müller IQ-XM Speed
With the Busch+Müller IQ-XM Speed, the manufacturer from Meinerzhagen has a StVZO-approved battery lamp for road, gravel and mountain bike in the offer, which has three light levels plus high beam. The light levels are 20 Lux, 70 Lux and 120 Lux. The high beam has 170 Lux.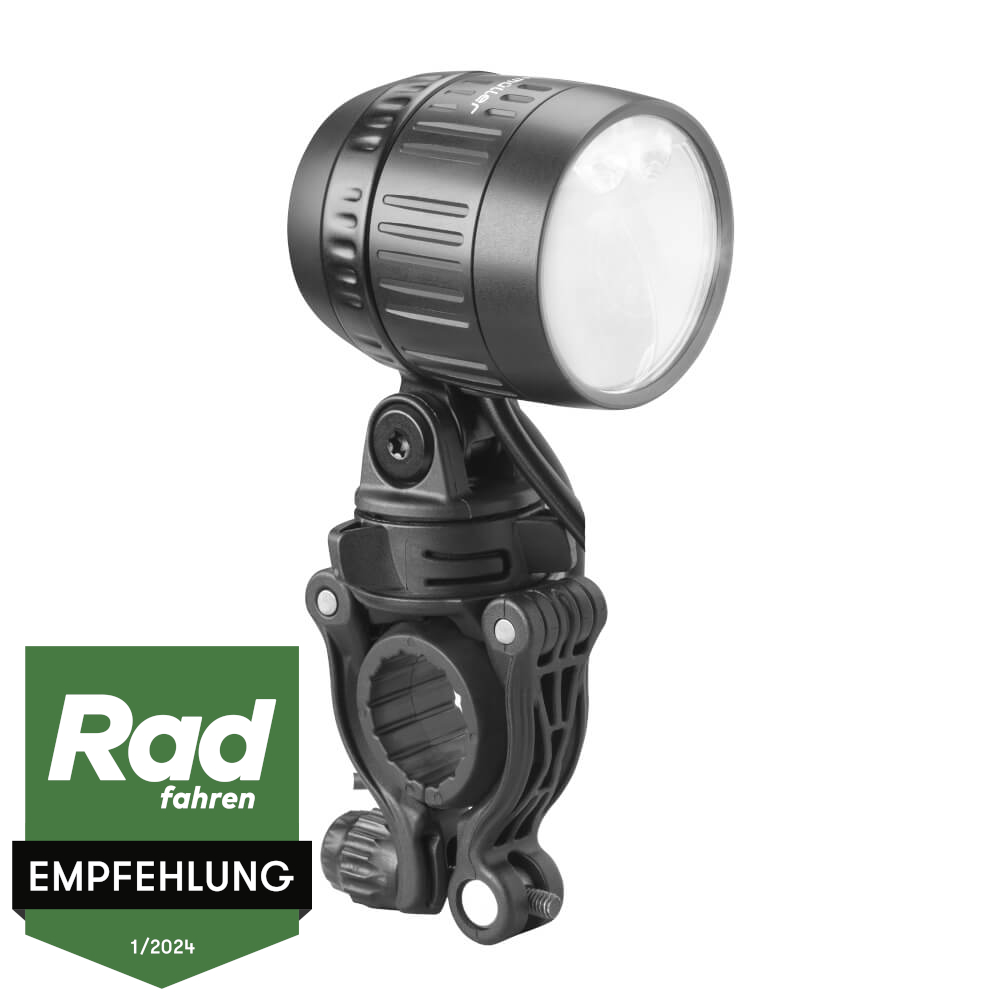 In the city, 20 or 70 Lux is usually enough in my view, as there is often a lot of ambient light. In the woods and off-road away from the city I went with at least 70 and often with 120 Lux. Depending on how the headlight is set, it has a very good close-range illumination and at the same time gives decent light to the front.
According to the manufacturer, the lamp has a nominal voltage of 7.4V and a maximum power of 17.5W.
Luminosity
During the test, I had enough time for experiences with unlit cyclists, walkers and dogs. If the lamp is too focused on the immediate near field (about 5m in front of the wheel), then the rest disappears in complete darkness. But has the advantage that you can see potholes and roots quite well. But driving fast is not then.
I have therefore usually aligned the lamp 12-15m in front of the wheel. This had the advantage that the near field was good to see and also the path was well illuminated up to 50m. So I could see all animals and people, as well as bumps in the road well. At close range, the light field is wide and then naturally tapers towards the front. The edges were ok illuminated, at least for my needs. 120 Lux are sufficient for fast riding in the dark forest from my point of view. 70 Lux let one still recognize what, but are there rather an emergency light.
Here you can see my light test of the IQ-XM Speed in the forest:
If it was particularly dark or confusing in the forest, or I simply needed more light to find the right track, then I switched on the high beam. 170 Lux already make a lot of light and are quite sufficient from my point of view. Of course, it still goes brighter, but as a normal cyclist it does not need it from my point of view.
During my rides, the lamp has not become particularly warm. However, I have not used it when stationary, but also always had sufficient cooling by the airstream.
Battery
Of course, we now have to talk about the battery life. The external battery has a capacity of 4,600 mAh (Designation 468A) and can equally be used as an external powerbank for charging other devices.
When used as a powerbank, the battery has a capacity of 4,200 mAh with a maximum of 2A via USB port. If you use the battery to charge other devices, the light output is reduced accordingly. Busch+Müller writes: "Light output via cable with 4,600 mAh with 5A without used powerbank function. (…With powerbank functionality) then between 3 and 4.9A are available at the light output."
It weighs 269g (including Velcro, without 253g) and is fixed to the top tube with a stretch Velcro strap. Alternatively, it can also be transported in a top tube bag. The fixation on the top tube holds amazingly well and is secure even on rough rides.
The battery is connected to the lamp with a cable (screw connection). This means you can attach and detach the battery independently.
Busch+Müller gives the battery runtimes as follows:
20 Lux – 23h
70 Lux – 7h
120 Lux – 4,5h
170 Lux – 1,5h
I rode with the battery mainly at temperatures between -2 degrees and 6 degrees. Thereby I could determine a battery life of 3h at 120 Lux, at 170 Lux of about 1h 45min.
In the process, I also noticed that with only 40% battery or two LEDs lit (the battery shows 5 LEDs, each representing 20% charge), the high beam operation is then automatically turned off. Meaning: if I then ride with high beam, the lamp turns this off automatically and goes into the respective previously set light mode. I found that not so practical, because so I was then suddenly missing the illumination in the forest. I then had to switch on the high beam again, with the same switch-off effect a little later.
Overall, however, the runtimes stated by the manufacturer should match practice.
The battery is charged via a micro-USB port that is covered with a rubber tab. But I have to complain here because it no longer closes properly in my model. This is probably due to the fact that it is bent away by the cable during the charging process and then cannot be bent back properly.
This does not cause an immediate malfunction, but when it is cold or wet, the USB port cannot be protected in this way, which is not good in the long run.
The charging time of the battery via the included power adapter takes about 5 hours according to the manufacturer. It did not take that long for me. However, the battery was not completely discharged, but still had 1.5 beams. The charging time can take up to 12 hours with other USB power supplies and on the laptop.
The dimensions of the battery are according to own measurement: 9cm long x 6.5cm wide x 3.5cm high.
The lamp is switched via a manual button. This lights up green for the normal light modes and blue for high beam. The button has to be pressed longer to switch on, as well as to change the light levels and to switch off. To change from low beam to high beam, a short press on the button is sufficient.
Mounting
The IQ-XM Speed is mounted with a so-called twist-lock handlebar holder. This is "suitable for all round handlebar types from 22 to 32 mm in diameter".
And it certainly polarizes in design. In fact, it does not look particularly elegant compared to other mounts that position the lamp less prominently on the bike. As a result, the lamp stands high on the handlebars, which looks a bit unusual on the "naked" bike, but is not bad at all for the light pattern.
In addition, the type of attachment for a Bikepacking bike is not so wrong. Because there front lights are often covered by handlebar bags and the stylish attachment to the handlebars comes to its limits. The IQ-XM mount then ensures that the lamp protrudes above the front luggage and illuminates the way well. In addition, the holder is narrow enough to provide still food pouches and the attachments of the front roller space. In addition, the bracket can be mounted very quickly due to the screw lock.
But I would still like to see a different and more elegant way of mounting here. The headlamp is pretty good from my point of view and should therefore like to offer more mounting options.
The weight of the lamp with push button is 146g. In total, the lamp, button and battery weigh 417g.
The dimensions of the lamp (including holder) are (self-measured): 5cm length x 6.5cm height x 4.5cm width. The total height including handlebar clamp of the lamp is from clamping screw to lamp head 13cm. From the handlebar to lamp head about 8cm. That means the lamp stands out 8cm above the handlebars.
Another note at this point: The light head of the IQ-XM is fixed by two Torx screws on the right and left in its inclination. For this you need a Torx 20, which is unfortunately not available on common multitools (there usually 25). This is not good because I can not screw the lamp on the road when it has loosened – as in my case – times. Here I would like to see a screw size that also corresponds to the available multitool Torx screwdrivers.
Conclusion
The Busch+Müller IQ-XM Speed with its high beam function is worth a look for anyone looking for a battery-powered light that provides sufficient light for gravel or mountain bike tours in twilight and darkness. In normal urban traffic, of course, it is also more than good, but here it does not really need it in my view.
299 euros are due for the IQ-XM Speed. That's not a little, but for that you get a very good light that is quite sufficient for normal training laps and Bikepacking tours. It provides enough light in dark forest and also illuminates more challenging terrain well. The battery life is ok and should be quite enough for most riders.
In addition, the battery can be used on the road to charge other devices. But in the attachment I would like to see a little more "design".