Please Note:
I name and describe brands and models in this post. And that can therefore be advertising.
This year again, there are a few bicycle inspirations for you for 2022. Of course, the supply situation is tight right now and honestly, we should also rethink the famous N+1 rule in view of overconsumption and sustainability.
But dreaming is allowed, of course, and I'm sure many of you are looking for your first good bike or a worthy successor to a bike you've used for many years anyway.
This time I would like to introduce you to 10 bikes that have caught my eye and that I find interesting for sports, bike travel, bikepacking tours or gravel rides. Of course, everything is subjective and without any claim to completeness.
Let's go!
Curve GMX+
Curve is an Australian bicycle manufacturer that produces very beautiful and, above all, very well thought-out bicycles made of titanium, among other materials. At the Silk Road Mountain Race I met Justin, who was riding a Curve GMX+.
And I really liked that one: A sporty geometry and many eyelets for all cases. Curve says about this bike:
It's inspired by the intrepid overlander tours of the 1890s, which covered incredible distances through the rugged Australian outback without assistance.
Therefore, the bike is designed for all eventualities and has a lot of eyelets to mount bottle and bag holders. I particularly like the eyelets on the dropouts and the side eyelets on the down tube, where bottle cages can be mounted accordingly, leaving the frame triangle free.
It also has a very large tyre clearance and a wide flare drop bar provides enough handling and stability. In Kyrgyzstan, Justin rode the Curve GMX+ with a Walmer bar and 2.6 wide tyres.
Sieh dir diesen Beitrag auf Instagram an
Rodeo Labs Flaanimal 5.0 & Traildonkey 3.1
There are two bikes from the American brand Rodeo Labs that I find noteworthy for 2022: the Flaanimal and the Trail Donkey.
The Flaanimal is an all-road bike with a frame made of Japanese steel. The fork is carbon with 2 eyelets on each side and internal cable routing for the dynamo. It is a real eye-catcher, especially in discreet black. And it is capable of doing great things, as Jay Petervary showed when he rode it on the Tour Divide.
Since its introduction in 2015, the Flaanimal has always been a bike that is essentially about versatility. The idea that the owner themselves get to interpret the frameset and turn it into their dream build is paramount. Whether on the road or off, the frameset should feel stable, efficient and fast no matter where you take it.
The Flaanimal 5.0 is the fifth version of this bike, which the manufacturer claims is the most comfortable. It can be ridden with 700cc tyres 50mm wide, or with 2.4 inch wide tyres at 650B. And if you don't want steel, you can have a look at the titanium version.
The Traildonkey, on the other hand, is a designated adventure bike, designed specifically for the big rides and rough conditions. However, it is not a drop bar MTB or a pure gravel bike, but a thoroughly successful mix for the bikepacking races of this world.
Originally built to take us over Colorado's roads and trails in 2014, the Traildonkey has since evolved into a bike that succeeds at the highest levels of gravel racing and bikepacking around the world – or just for exploring in domestic terrain.
The Traildonkey has been around since 2014 and has always been developed further. The now available version 3.1…
…has been completely redesigned. Over the years, we have formed firm opinions about what makes a great bike. We have incorporated these ideas into this frameset. High on our list of improvements (…) was greater tyre clearance. Our latest Donkey has that in abundance. A 2.25″ (57mm) tyre fits on Rodeo 650b rims (…) A 2.0″ (50mm) tyre fits on 700c rims.
The carbon frame is particularly eye-catching, with an angular down tube.
The Traildonkey is made of Toray T800 carbon, which provides high strength and high performance in real-world use. Each frame is completely hand-built in Taiwan by a manufacturing partner with over 30 years of experience in high-end carbon.
What I like is that Rodeo Labs opted for a T47 bottom bracket instead of a Pressfit on the TD3.1. This is not only more user-friendly, but also leaves room for internal cable routing, such as for a Di2.
I like the fact that both Rodeo Labs bikes can't really be categorised into a common bike category and for me exemplify the diversity of all-road bikes.
Portus Cycles GravKarl
Portus is certainly known as one of Germany's bicycle and frame manufacturers. Alex not only builds his own bikes here, but also works for other manufacturers in prototype development.
With the GravKarl, Portus has an atypical gravel bike on offer: gears, belt drive, suspension fork? Yes, you read that right. It's a perfect match and a very interesting bike for anyone looking for a different kind of gravel bike. And above all, it can be individually adapted to the rider.
The bike is equipped with a Pinion C1.12 and allows a maximum tyre width of 50mm with a 700c wheel size. However, at around 13kg, the weight is somewhat higher than is perhaps usual for gravel bikes. But to be honest, the weight of the bike is rather less relevant when it comes to fun in the forest and on asphalt.
Ridefarr Twin-T Cromo Frame-Kit Quantum Grey
My next tip comes from South Africa, and at its core it is a rather eye-catching, if not extravagant, frameset: the Twin-T Cromo from Ridefarr.
At first glance it looks like a BMX bike and the strikingly shaped top tube and double down tube are real eye-catchers. In fact, it's a 29-inch mountain bike that can be built up into a bikepacking machine or a gravel racer.
This combination of geometry and frame standards offers unique versatility and durability, giving you the freedom to be very creative in how you specify and build your bike.
The frame is designed for a suspension fork from 100 to 120mm of suspension. For this, Ridefarr has teamed up with suspension fork builder Bright Racing Shocks, who build an equivalent 120mm suspension fork for the frame. The Twin-T is also optimised for 1-speed gears. However, at 3.26kg, the Cromo frame is not particularly light. But in any case, this bike stands out.
Fezzari Schafer
At first glance you might think: "It's just a gravel bike". But if you take a closer look, the Fezzari Shafer turns out to be a very versatile bike for fast riding on gravel and forest roads as well as for the more sportive bikepacking tour.
The Shafer has a carbon frame that was " taken " from a single piece. Fezzari calls this Mono Form and it is supposed to make the frame more resistant.
In addition, the bike builders from Utah give the Shafer a tyre clearance of 50mm at 700c and many eyelets for bag and bottle cages. And if you like, you can also equip the Shafer with a suspension fork.
The Shafer has been machine tested according to the standards for cross-country mountain bikes. We have also carried out additional tests, such as a rear impact test, to ensure that the frame exceeds durability expectations. Many different frames and frame sizes were tested for thousands of kilometres in all kinds of conditions. In ride testing, the Shafer has had podium finishes in gravel races in the USA and thousands of kilometres of bikepacking in Iceland in rain, sand and mud.
Fara Cycling F/GR
It remains sporty and the F/GR from the Norwegians at Fara Cycling combines what I consider to be quite a sporty geometry with the possibilities of an adventure bike.
Fara comes from the Old Norwegian (At Fara) and means something like "travel" or "carriage". And that describes the F/GR's ambition and range of use quite well:
The F/GR is a specially designed gravel bike that takes you to the most incredible places. Extremely capable of tackling the roughest terrain, with great tyre clearance, low standover height and Fara Cycling's own Integrated Bikepacking System.
Frame and fork are carbon, with internal cable routing. As a build kit, the F/GR weighs less than 10kg and has a pleasing tyre clearance of 50mm at 700c. In addition, the Norwegians use a T47 bearing, which I find better than press-fit.
On the Integrated Bikepacking System, Fara Cycling says:
We've teamed up with industry-leading bag manufacturer Roswheel, whose lightweight and waterproof welded technology we've combined with a mounting system from Fidlock that allows us to completely eliminate straps and still remove the bags quickly and easily. The result is a bag system that attaches and detaches in seconds and fits perfectly with the geometry of the F/GR frame.
Santos Gravelmaster
The Dutch have been in the "business" for a long time and are mainly known for their touring bikes. With Santos you can easily travel around the world.
With the Gravelmaster, Santos offers a gravel bike that goes its own way. The Gravelmaster is equipped with a Rohloff gear hub with belt drive. And to make shifting the Rohloff intuitive and easy, Santos has installed the Gebla box and combined it with Campagnolo road shifters. This results in a very nicely tidy system.
The frame of the Gravelmaster is made of aluminium, typical for Santos, and can also be combined with a Lauf suspension fork. And if you like, you can also add a luggage rack and turn the Gravelmaster into a sporty touring bike.
Diamant Villiger
Speaking of touring bikes: Diamant surprises me again and again and has a quite interesting touring bike on offer with the Villiger.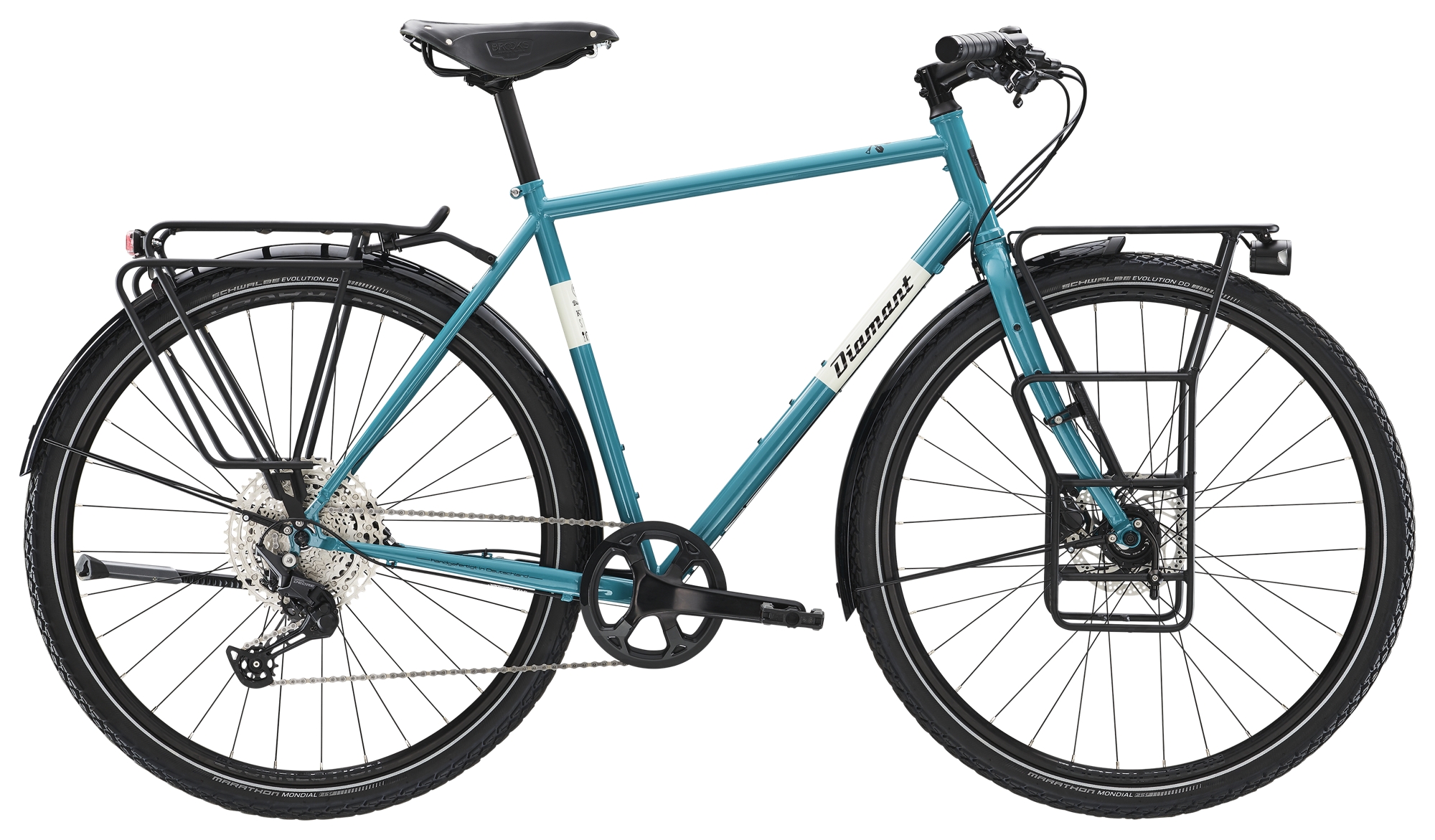 Good touring geometry, travel-friendly 1×11 gears, Marathon Mondial tyres, front and rear racks, hub dynamo and Brooks saddle – you can't build a more classic touring bike. And that's a good thing, because with a price of around 1,500 euros, the Villiger is definitely an interesting proposition for anyone looking for a good touring bike, but who also wants to have money left over for the journey itself.
The Villiger has a steel frame and an aluminium fork and rolls on 28″ tyres with 50mm widths. Of course, this also has an effect on the weight: just under 14kg is stated here, but this is perfectly ok for bikes of this type. The system weight is 140kg.
Kroemer Frames Green Lantern
From Frankfurt with Love: Eduard Krömer builds individual steel bikes with passion.
Here, every bike is handmade and custom-made – even our complete bikes.
There are actually only one-offs here, but Krömer currently also has two models on offer as complete bikes: a gravel bike and a commuter. You can have a look at them here, but I find the unique "Green Lantern" much more interesting.
It's a beautiful drop bar adventure bike with a lot of attention to detail and just as many eyelets and mounting options for bottle and luggage racks. And colour-matched mechanical disc brakes from Paul. And if you are inspired now, you should give Eduard a call…
And now I wish you lots of fun!