Note:
I name and describe brands and models in this post. And so this may be advertising.
As I do every year, I have a few bike inspirations for you for 2023. These are bikes for bike touring, gravel & bikepacking that caught my eye during the year, or that were newly introduced this year.
Overall, however, I have to say that the new launches have felt limited and the manufacturers have (understandably) concentrated more on model updates. Now the supply market seems to be easing a bit and availability is improving. So let's look at great bikes and dream and maybe there's something for you!
Of course, everything is subjective and without claim to completeness.
Repete G2 Verne
Repete is a manufacturer from the Czech Republic that offers a road bike and a gravel bike. The Repete G2 Verne is a performance gravel bike with which you can really let it rip in the forest. The frame is made of Columbus Spirit HSS steel. According to my research, this tube set is best suited for sporty and at the same time lightweight frames. At Stahlrahmen-Bikes.de you can find more information about the material and what is possible with it:
The special thing about Columbus Spirit HSS are the different shapes for the 44mm oversize down tube. Especially with a custom frame, this allows you to individually implement different requirements for stiffness and comfort.
With the G2 Verne, as with almost all gravel bikes, you can switch between 700c and 650B wheels depending on your requirements. With 700c, a maximum of 40mm wide tyres fit. With 650B 47mm.
The frame is very clean, has internally routed cables and is built as a pure gravel frame. This means that it has no additional eyelets for bottles or the like and is therefore not really suitable for long multi-day tours with a lot of luggage. However, if you are going on a race in the summer for a few days with little luggage, then the G2 Verne is suitable. The geometry of the G2 Verne is designed for long rides. The stack/reach ratio is 1.55. From a stack/reach ratio of 1.55, one speaks of an upright/relaxed riding position, which is especially interesting for bikes for long distances. This refers to bikes with a sporty geometry.
The frameset is available for 3,000 euros. The complete bike is custom-made.
Ribble Gravel Ribble is an English bicycle manufacturer and offers the Ribble Gravel, a – of course – gravel bike. It is available with an aluminium, titanium or carbon frame and also as an eGravel bike.
The prices are moderate, but thanks to Brexit, taxes and customs duties are likely to be added. The Titan Gravel, for example, is handmade, has a triple-butted frame, carbon fork and is available in 7 different versions: with Ekar, GRX Di2, Force XPLR AXS and so on.
Interestingly, the Gravel is available with 650B wheels. And the wheels are also equipped to a high standard, for example with carbon rims from Enve, saddle from Brooks or Level carbon handlebars.
And: the Gravel is also available in XXS for riders between 150cm and 160cm tall. In XL it goes from 183cm to 191cm. The fork and frame have enough eyelets to turn the Gravel racer into a Bikepacking bike.
8bar Pankow Steel Touring
With the Pankow Steel Touring, the Berliners have a bike on offer that can really be an all-road. It is a good combination of touring bike, commuter and gravel racer.
The geometry is rather relaxed and designed for smooth running. It is perfectly designed for longer tours on and off the road.
And so 8bar also positions the Pankow Touring as a pack mule and bicycle for world travel. It has all the necessary mounting options, external cable routing (which is handy for repairs on the other side of the world) and a mechanical disc brake.
The fork is made of aluminium and has the necessary eyelets for front rack mounting and mudguards. If you like, you can also get a steel fork. For the gears, 8bar uses the GRX 400 groupset, with 2×10 crank/cassette. The front is 46/30 and the rear 11-34, but for the world trip you can check whether you can upgrade to 11-40 in order to have sufficient reduction for the mountains.
The wheels have 8bar hubs and rims. I like that they use the Schwalbe G-One Bite with 45mm width. So you should be well equipped for all touring conditions. And for those who like it: the Pankow Touring is available as a flat or drop bar version.
The price of the Pankow Touring is around 1,800 euros. You can then configure your bike in the 8bar configurator. I couldn't find any information about the weight and system weight. The frame weighs 2.7 kg. The fork 750g.
Nordest Kutxo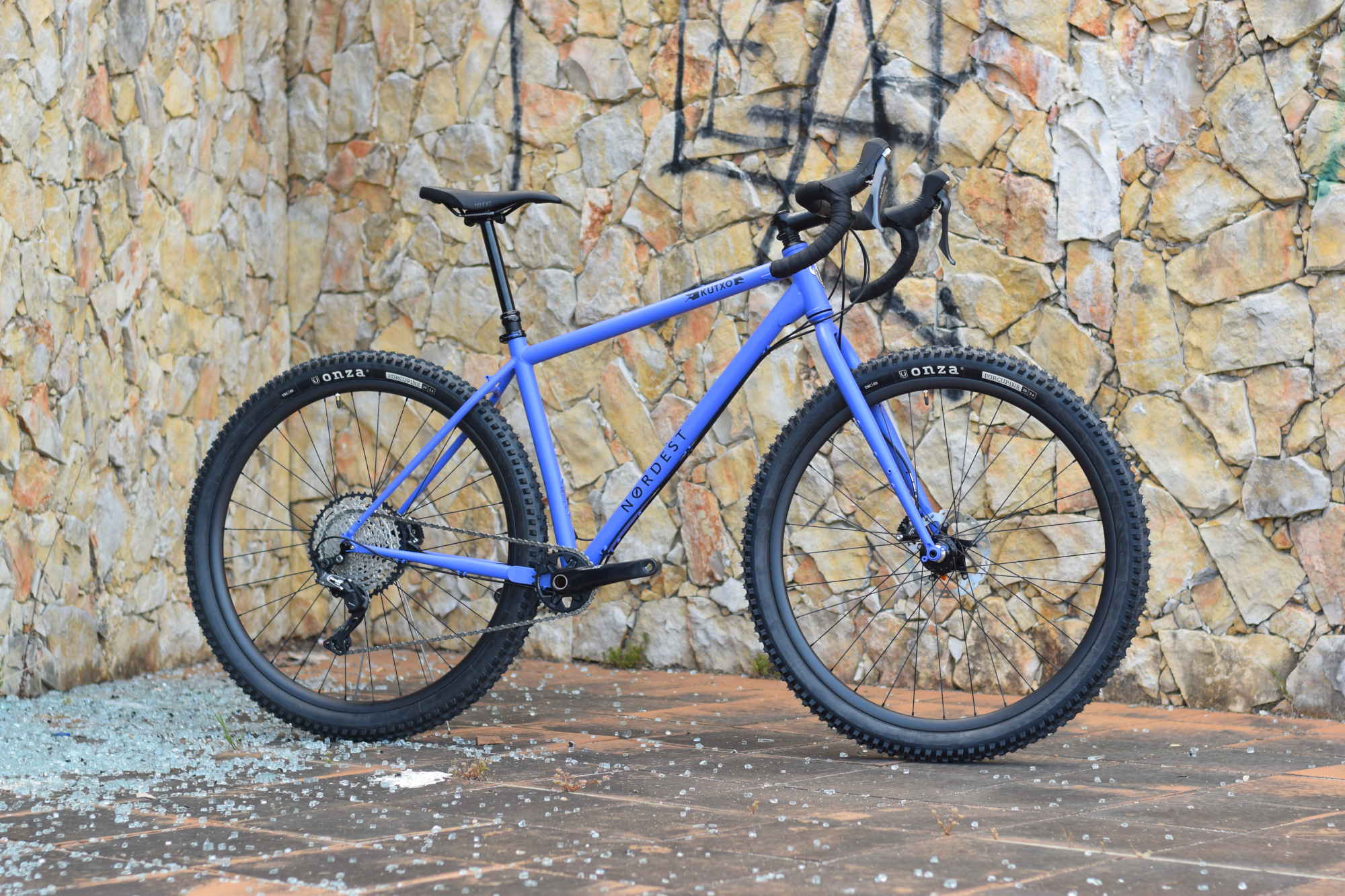 Bikepacking.com says Monster Gravel. I say: finally a real bike for real adventures. The Kutxo from Nordest is a 29er drop-bar steel frame bike that is built similar to the Salsa Fargo for pretty much all occasions. However, it has the advantage that the Nordest can also be fitted with a 120mm suspension fork, whereas the Fargo only has a maximum of 100mm. It is intended as a gravel bike, but its geometry is based on the mountain bike.
The Kutxo is available as a frameset made of 4130 steel. If you believe the experts, this is an alloy structural steel that "overall (…) shows a good combination of strength, wear resistance and toughness".
A maximum of 29×2.4 inch wide tyres can be fitted, which should be sufficient for most requirements. The fork can even accommodate up to 2.6 inches. You can also see the gravel bike in the Kutxo with the brakes, which are flat mount. But that will also be the case with the Fargo in the next update.
It has Boost standard, is optimised for a 1-speed drivetrain (max 36 teeth at the front) and has all the necessary attachment points to be able to load the Nordest Kutxo and either finish the Atlas Mountain Race or the long bikepacking tour to the end of the world.
I didn't find total and system weight.
Sonder Santiago Rival 22 Grand Tourer
Sonder is the bike brand of the British outfitter Alpkit. And its bikes are always worth a look. I had the Santiago in my list two years ago and this time I found the Santiago Grand Tourer, which is a travel tourer build. Still, it's worth a mention, because it's actually exactly what I see gravel bikes as being best suited for: sporty touring bikes that can also handle some off-road. This makes them perfect successors to the 26-inch bike touring trucks that have been preferred so far.
As the name suggests, the Sonder is equipped with a 2×11 SRAM Rival. A 48/32 crank works at the front and an 11-36 cassette at the rear. The frame is made of Reynolds steel, the fork is also a steel fork. The wheels are from Sonder and the Santiago Grand Tourer can be fitted with either 700cc wheels with a maximum width of 37mm or with 650B with a width of up to 47mm. By the way, I would go for the 650B wheels on a bike trip around the world.
The frame and fork have enough eyelets to attach racks and holders. The brakes are mechanical disc brakes and the bike comes with WTB tyres as a built set.
The bike weighs around 14kg in size L in the build version. The frame is 2.1kg, with fork 3.7kg.
I could not find the system weight. The price is 2,250 euros.
For just under 1,000 euros, the frame set is also available for self-assembly.
Rondo MYLC
With the MYLC CF1 and CF2, Rondo has a gravel racer on offer that I find visually very interesting.
The frame shape is quite remarkable and leaves plenty of room for bags if you need to take a longer ride. With the MYLC, Rondo wants to offer mountain bikers in particular a sporty and fast way to explore the terrain. Rondo offers the MYLC in an aluminium, a steel and two carbon versions.
The maximum tyre width is 700c x 47mm. This is sufficient for even the most demanding terrain. The MYLC carbon versions are equipped with SRAM Rival & XPLR or Shimano GRX.
I would not prefer it for bikepacking tours, also because there are not enough eyelets. However, the fork has three per side and obviously the frame still has a set of bolt-on points on the top tube to mount a Top Tube bag, for example.
The frame sizes offered accommodate people from 165cm to 194cm. The price for the aluminium version starts at 2,400 euros and ends at 5,000 euros for the CF1 carbon version.
Koga Colmaro Extreme
A lightweight aluminium frame with a carbon fork, 2×11 Shimano GRX gears and wide 27.5 inch tyres – that's the Colmaro Extreme adventure gravel bike from the Dutch company Koga. The cables are routed inside and the brakes are hydraulic disc brakes.
And it doesn't look bad, which is not to be neglected. The frame and fork have plenty of eyelets for carriers and brackets. The wheelset is also the right choice, with the DT-Swiss G 1800 Offroad. They run on 47mm wide Venture WTB tyres. And if you don't like 27.5 inch wheels, you can also fit 700cc wheels.
This makes the Koga ready to be a sporty gravel bike on the one hand, and a good sporty touring bike on the other. Ideal, then, if you don't always want to do N+1 and would rather have a bike for many occasions.
The Colmaro weighs just under 11 kg and costs around 2,400 euros.
Triban GRVL 900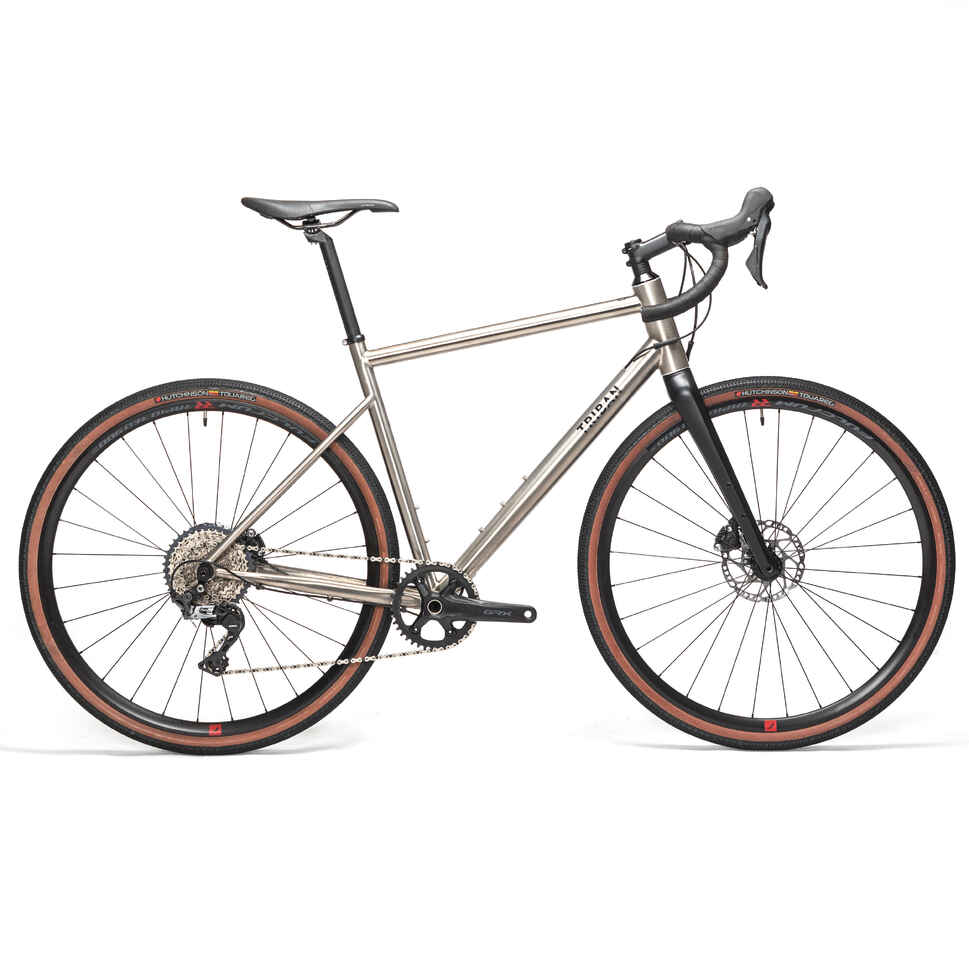 It should be known by now that Decathlon also makes good bikes. The Riverside sub-brand in particular surprises with very good and well thought-out bikes for Bikepacking and cycle touring.
With the Triban GRVL 900, the French now have a titanium gravel bike that offers very good equipment at a sensational price of 2,700 euros: Carbon fork, Fulcrum wheels, 1×11 Shimano GRX with front 40 and rear 11-42 cassette and Shimano GRX 600 brakes.
The possible tyre widths also sound good: 700x45mm or 650x50mm. According to the manufacturer, the total weight of the bike without pedals and with inner tube is 10kg. And if you make a few adjustments to the configuration, you can even get it under 10kg.
The frame sizes are available for people from 154cm to 196cm tall.
Decathlon also gives a lifetime guarantee on the frame, stem and handlebars.
Pelago Thórsmörk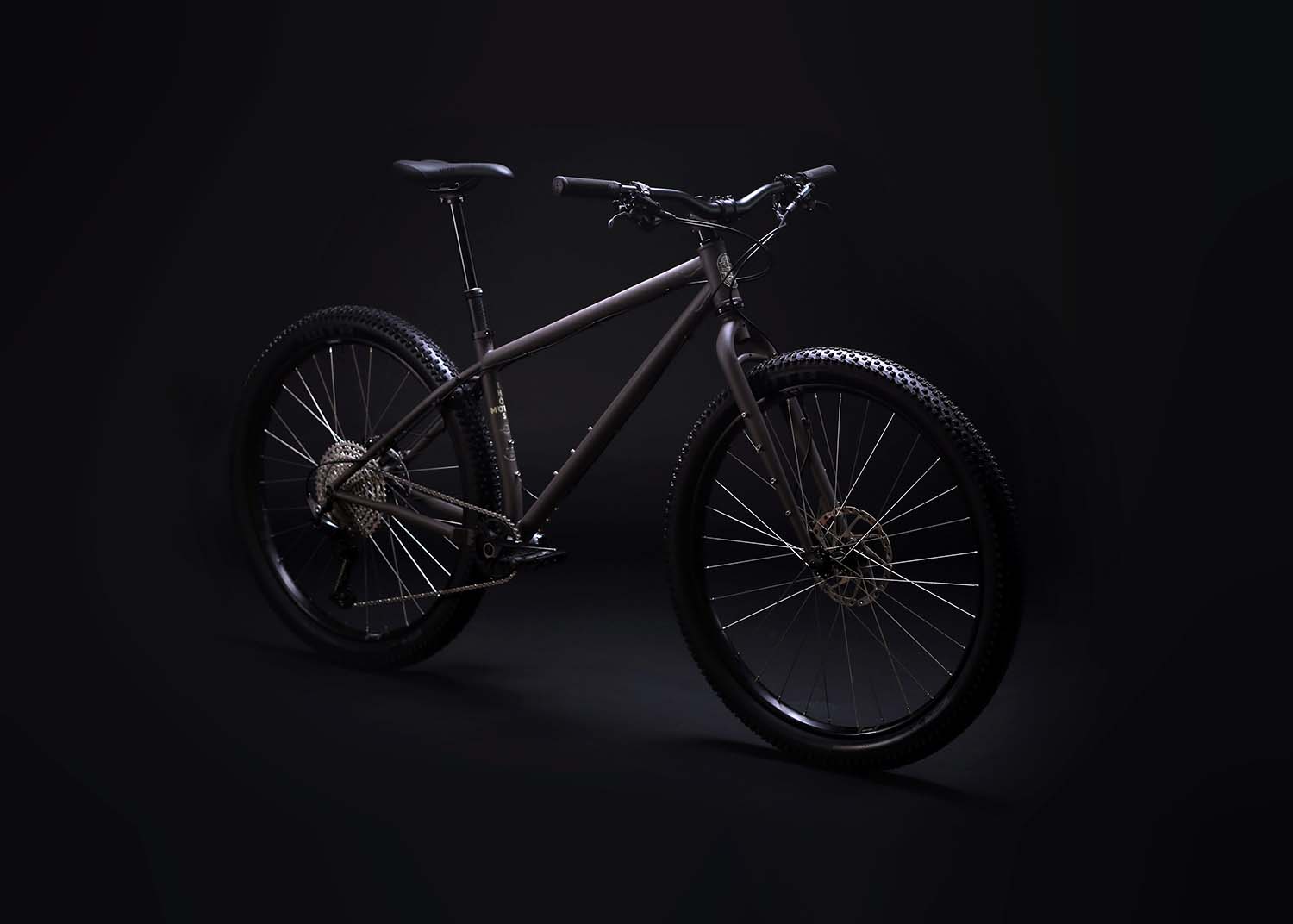 This is a real eye-catcher, which the Finns have delivered here: they position the Thórsmörk as a hardtail trail bike with which you can do more than just micro-adventures or forest highways.
At 29 inches, 2.6 inch wide tyres fit, at 27.5 inches even 3 inches. This makes the Pelago an ideal bike for trails such as the Grenzsteintrophy.
The frame and fork are made of CroMo steel, with everything you need for a fast lap in the forest or a longer tour over hill and dale. There are plenty of eyelets for all applications.
This jack of all trails is for riders who seek a multipurpose bike for off-road adventures, multi-day bikepacking trips and trail-fun. Thorsmörk is a fun and versatile trail bike with added utility features for bikepacking. A bike you can take anywhere from local trails to far-out back country cycle retreat.
The Pelago Thórsmörk frameset should be available from mid-2023.
Vetra Berzeeerk
Sieh dir diesen Beitrag auf Instagram an

I haven't found much on this bike and brand yet, unfortunately. It is mainly active on Instagram, where it presented the new Adventure MTB called Berzeeerk. It's basically a steel MTB with a handlebar called Devils Bar and lots of eyelets for bikepacking and bike touring.
The makers behind Vetra are graphic designers and enthusiastic BMX and touring cyclists. You can find an interview with them here.
The Vetra Berzeeeerk has 1-speed gears and mechanical disc brakes. The cables are routed on the outside and Vetra also supplies stylish and matching racks for small luggage.
Breezer Squall
Breezer and especially the Adventure bikes are always worth a look. You might already know the Breezer Radar, but now the Americans have introduced the Squall, a 650B all-road adventure bike that is not only made for the trails and tracks of the world in terms of its geometry and equipment, but can also be packed ready to travel thanks to couplers in the frame.
The Breezer Squall has a steel frame and a carbon fork. Both are more than adequately equipped with eyelets. The Squall rides on 650B wheels with a maximum width of 47mm. Breezer classifies the Squall more towards MBT and bikepacking and less towards speed and gravel.
The Breezer Squall is equipped with a 2×11 Shimano GRX. It has a 46/30 crank at the front and an 11-34 cassette at the rear. However, you could add a bit more, especially if you want to go off-road with luggage.
In any case, with a price point of 2,400 euros, the Squall is a clear recommendation for anyone looking for an adventure bike that can also be folded and stowed in such a practical way that you can take it anywhere.
That was it for this time!
I am always happy to hear about practical experiences with the above-mentioned bicycles.