Note:
Urwahn has provided me with the Waldwiesel for a test. This is advertising.
You have to look twice, because the Urwahn Waldwiesel is everything but a normal gravel bike. This frame shape, the S-shaped seat stay, the missing seat tube. It is in any case a statement, individual, sporty, extravagant, futuristic, aggressive.
Can you ride it at all? But yes. And how!
It shows at the first pedal stroke. It really takes off, rides aggressively-agile, responds very easily to steering commands and lets you fly through the forest and on gravel.
And now you realize it: I was very surprised by the Urwahn, because I had prejudices. Yes, 3D printing, extravagant design, hipster, fair frame production, eco and so on. But as is often the case, if you make the effort, inform yourself and are open to new ideas, then you discover a lot of new things. Like, for example, a gravel bike that combines design and style with performance and sportiness.
Now let's cut through the prosaic stuff.
Let's take a closer look at the bike:
Urwahn is a company from Magdeburg. Behind it is Sebastian Meinecke, who as a design lover built unique pieces in his bicycle manufactory. After a few stops and some growth, Urwahn was born.
The name URWAHN is composed of the terms URban and WAHNsinnig (insane) – insane enough to tackle new ideas and break new ground in the urban realm.
Special for the bikes from Magdeburg is the 3D printing. But anyone who now thinks that the frames are completely printed is wrong.
The highly complex and thin-walled connecting elements of our innovative Urwahn steel frame are realized with the help of the latest 3D printing technology. (…) The individual metal layers are selectively fused together using a powerful laser. (This) allows us to drastically shorten the manufacturing process of our complex connecting elements and does not require any cost-intensive tools to produce them.
This, of course, allows Urwahn to play with the design and geometry almost at will, allowing us to think along with many add-ons, such as the integration of an LED system.
The Urwahn Waldwiesel – frame, fork & geometry
With the Waldwiesel, the Magdeburgers offer a "cream cut that goes off like a rocket".
Our adventurer just craves a wild ride outdoors and guarantees progressive handling with direct propulsion.
The Waldwiesel is very sporty in its geometry and more of a crosser than a classic gravel bike. The frame is made of steel, has an integrated frame opening to allow belt drive, for example, has flat-mount brake mount and internal cable routing. Everything is designed with design in mind. The eye rides a lot here. And that's a good thing, too.
The fork, by the way, is made of aluminum and is not 3D printed.
Special is of course the already mentioned S-shape of the seat stay and the missing seat tube. This was also immediately from you the question of whether that is flexing.
Well, Urwahn call it "Softride frame concept". And according to the manufacturer, that should also flex a bit. But I could not feel that. Quite the opposite: the bike is surprisingly hard as a board and therefore rides very directly. This leads, among other things, to the fact that I would not necessarily take the hand from the handlebars in the terrain, because then it starts to jump. But this is also due to the narrow 40mm tires, which off forest highway and gravel then not necessarily hold the track, or can not keep up with the propulsion of the Waldwiesel.
The frame gives despite or through its shape the power from the pedal directly into the propulsion. Since I've ridden bikes where this power transfer was either a little slower, or almost disappeared in the rather soft frame or geometry. In contrast, the Waldwiesel is an elemental force that you have to be able to control well.
Where the Urwahn plays to its strengths is the long haul. Despite the yet sportier geometry, you can put away long rides in one piece well. Maybe flext there then but what?
Unfortunately, I can not find any stack / reach data. But there is an infographic with many other dimensions:
But on the basis of the top tube length, the stretched seating position can already be guessed.
I rode with the frame size M. That was from the height so far ok, but I would have liked a little more length. I'm there but with my 1.84m size and an inner leg length of 80cm exactly between M and L.
Normally I look at Bike Insights. But there is only the Stadtfuchs as a reference, but which does not count as a comparison, because, for example, its top tube is shorter than the Waldwiesel and the Stadtfuchs halt what is for the city and you sit there more upright.
Frame and fork form a unit without breaking and merge into each other. The shift cables are routed inside and if you want, the lights can also be integrated almost seamlessly into the overall concept Waldwiesel in the ordering process. In addition, it is also possible to attach mudguards. Corresponding eyelets are available.
This simplicity and the slim design, however, do not allow wide tires: the Waldwiesel can accommodate a maximum of 40mm wide tires. And then there really isn't much room. So if it should get muddy-sticky, it can also quickly clog up.
A special attention should be paid to the seatpost. This has namely geometry-related not so much space. This is especially important when choosing the frame size, because you can not push it in particularly far. It is fixed with a Torx screw in the frame angle.
But that has not always worked for me. In the beginning, I did not get the seatpost properly fixed and it turned while riding. Then I tightened it again (with Wera Tools) and it has loosened again somewhat after a cross-country ride. But that can only have been due to my caution with the Torx screw, because there I had the impression that it is rather soft and turns round at some point with too much force. In the end, it has then holds. Personally, I would prefer an Allen screw here.
But Torx is at Urwahn first choice, even at the – unfortunately – only pair of eyelets in the frame, to which a bottle cage can be attached.
Hexagonal screws can wear out so quickly and Torx screws have a much longer shelf life. Thus, the user can also adjust the screws more often independently, without having screws spinning right away.
Ok. At least Torx screws have a certain theft protection, because they do not occur so often and then may not be at hand.
The saddle I do not pay attention. The does not fit into the overall look, is too clunky and should be replaced with a slimmer, the Waldwiesel appropriate saddle.
What I liked very much was the color. Cobalt blue was my test bike. The paint is rather matte and not particularly thick. Attention so, should you ever strap bikepacking bags, then do not forget to protect the frame with foil before.
Urwahn offers the Waldwiesel as standard in the colors asphalt, concrete, oxide and gold. And if that's not enough, you can choose one of 213 colors for an additional charge. Various coatings are also available.
Urwahn Fair Frame Concept
If you discuss the Urwahn frames, you also have to talk about the very interesting Fair Frame concept. In my opinion, this is a good selling point and USP of the Magdeburger.
Fair Frame generally means that during production, attention is paid to sustainability, climate friendliness, social compatibility and regionality.
With our "FAIR FRAME" label, we want to make people aware of fairly manufactured and traded products. Our steel frame proves to be a venerable pioneer. Produced entirely in Germany, it is subject to a sustainable materials policy. The use of the original material, steel, favors material recycling. Accompanied by short production and logistics routes, we can also drastically reduce CO2 emissions for the benefit of our environment.

We do not only focus on people during development. Through the regional anchoring of our production, we create a profound transparency characterized by a fair wage policy and appropriate working conditions towards all actors involved in development and production.
Gear & Brakes
Designed for tough conditions in rough terrain, the precisely tuned Shimano GRX 1-11-speed groupset converts every impulse into direct propulsion.
This is how Urwahn positions the Shimano GRX 600 shifting system on the Waldwiesel. And this performs a good service and is also completely sufficient in my view. Rear works a 11-42er cassette (in older models still a 11-36er). In front, a Garbaruk 42 chainring is used.
In this combination, the Waldwiesel is nimble, but when it goes uphill and you pay tribute to the underground, then it becomes tight – even for trained riders. And should even be luggage on the bike, then the oven is soon out, because with a maximum 1:1 ratio you do not get far.
The crank and the hubs are, by the way, an in-house development, but about which one does not want to reveal much:
As with the crank, the hubs are also in-house developments and are made separately for us by a special production partner. Since it is a custom design and we want to keep our know-how for us, we keep this under secrecy.
The Urwahn CT1-CR1 is available with an arm length of 160 and 170mm. The bolt circle is 5×130.
It has a hollow axle and needs a BSA bearing. The bearing comes from Acros and sits in an excenter. Thus, it is adjustable depending on the type of transmission type.
Wheels
Bye-bye, pavement – hello, off-road adventure! The special wheelset ties in with the requirements and relies on robust DT Swiss rim rings and spoke mesh, while the form-fitting steel frame just glides over impassabilities.
To the hubs I have already written above that the manufacturer is not known. But they make a reasonable impression. But I can not say more after the 350km test rides. The front wheel has a 6-hole 12x100mm hub. Rear is a 6-hole 12x135mm hub installed.
As rims, the quite beautiful Ryde Dutch 19 with 32 holes and a jaw width of 19mm (19-622) are used.
The Ryde is…
…a very extra stable and robust hollow chamber rim (ETRTO 19-622), made of high quality and thick-walled aluminum. The Dutch 19 model (…) uses unpunched nipple holes and has a stable profile. Optimal, therefore, if it is sometimes a little rougher, for example, off paved asphalt roads. The clean and high-quality workmanship of the black Ryde Dutch 19 aluminum rim also ensures a long service life.
It weighs 660g per rim and has a weight release up to 120kg. This makes them interesting even for heavy riders.
The tires are the Continental Terra Speed in 40mm wide (40-622) installed.
Conti says to these tires:
For the way off the road. For more comfort. For the adventure. Whether extended tour or the quick shortcut on the way home. The new Gravel Terra range from Continental gets you to your destination. Made to take you over hill and dale.
They are tubeless-ready and feature ProTection and the proven Black Chilli Compound. And they ride pretty well off-road, in dry and wet conditions. I ran them at 3 to 3.5 bar (with tubing) and they gave plenty of traction and grip in the corners. And they didn't puncture, which always gets a special mention from me.
Seen in this way, they are the right tires for the Waldwiesel, but equally then also overwhelmed with this from time to time. And a disadvantage that I always see with gravel bikes when it goes off-road: they need a little more air with narrower tires, which then of course gives hits more direct and makes it more unsteady to keep the bike, for example in root passages or stony descents, under control.
Handlebar & Stem
And when it gets rougher: the Acros Dropbar guarantees complete steering control with generous flair and ergonomic fit. One trial please!
Well, the trail I do not see with the Urwahn Waldwiesel rather. It is simply not built for it. It does not have to, because it is a performance-oriented gravel bike.
The handlebars but I liked quite well – at least for the bike it was just right. Installed is the Acros Gravel bar, which has a flare of 25 °. That was not much overall, but enough to have good control on gravel even in the lower link.
Acros says about this handlebar:
Road bike flair with mountain bike feeling fancy? Our gravel handlebar impresses with the combination of comfort and control – goodbye asphalt, hello gravel adventure!
It is 440mm wide at the top and goes down to 560mm. The drop is 129mm, the reach is 100mm and the clamp width is 60mm. Here's a quick explanation of the terms, thanks to wheel tensioning: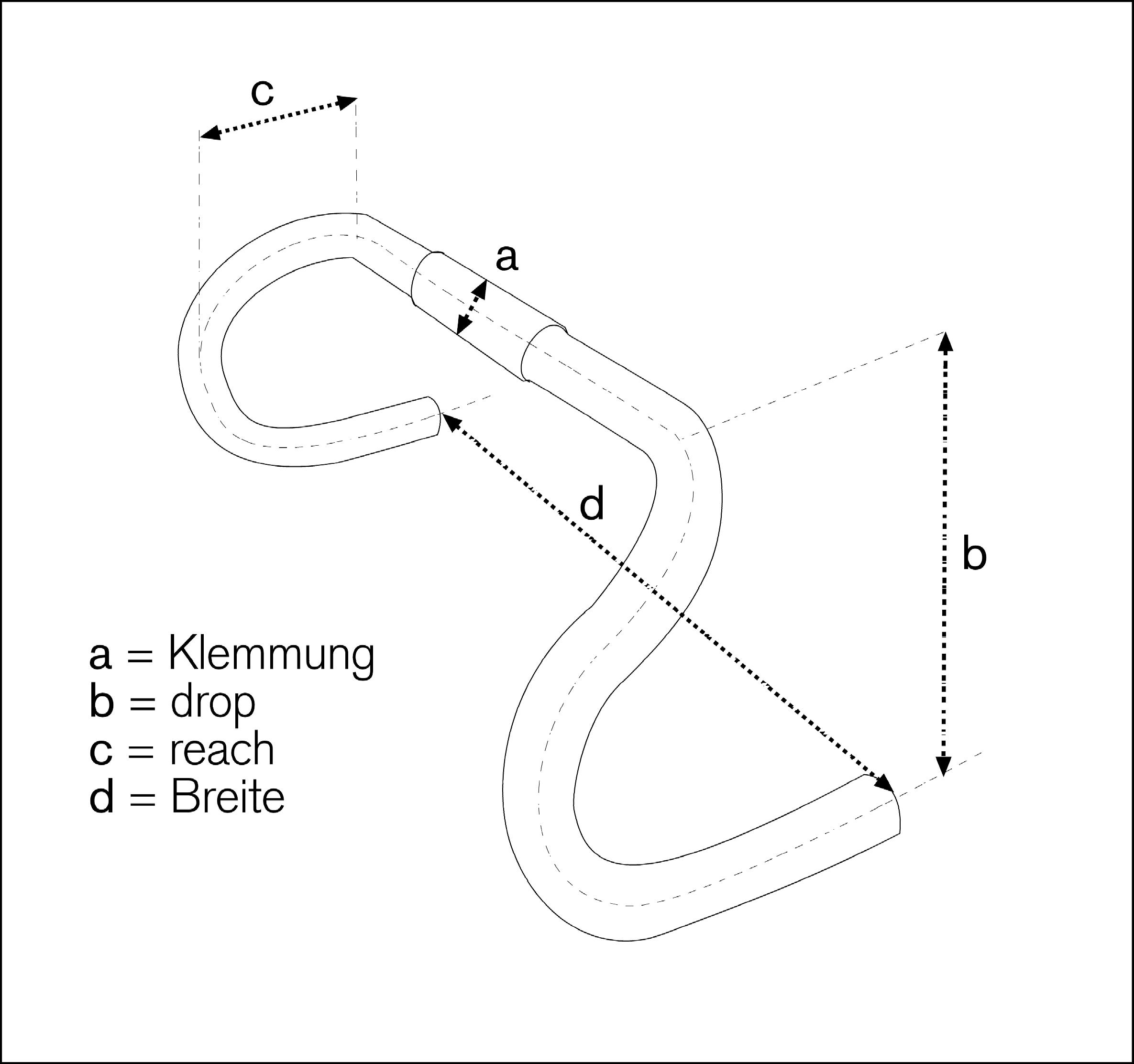 The Acros Gravel handlebar weighs 294g and has "Adventure Laser Graphics" which means images are lasered into the top of the handlebar.
The handlebar is held by a Satori Viper stem with Acros ICR. This means that here the cables can be routed inside / integrated, which gives the whole a very clean design.
On top of the stem is still a small "slider. But what for?
This is the SP Connect cell phone holder for mounting the smartphone on the bike.
Conclusion & classification in Martin's Allroad Bike categorization
As you know, I have developed an allroad bike categorization, in which I classify all the bikes I test and thus create a little more clarity.
This is not easy, also because the variety of types, applications, categorizations and trend designations make it almost impossible to structure this once. Nevertheless, I have tried it once. I have formed three categories under the generic term all-road bike, but of course they overlap and so also have common features:
– Performance & Race: Some of the bikes come from and/or are inspired by the road bike/crosser sector. Especially road cyclists who switch to gravel will find pleasure in these very sporty bikes, which are primarily intended for competitive use.
– Leisure & Everyday: Here I see the bikes that combine the sporty and the relaxed, and with which you can go almost anywhere without thinking much about it. Yes, here we're talking mainly about the classic gravel bike as a primo offering to those who don't want to worry about the surface anymore, but just want to ride.
– Travel & Adventure: Yes, even the daily commute to work can be adventure, but in this category I see all bikes that are suitable for almost all terrains, whose roots lie more in MTB and which make off-road, bikepacking and bike travel in all varieties possible.
I classify the Urwahn Waldwiesel in the Performance & Race category, with little overlap in the Travel & Adventure area.
If you like design on your bike, want to stand out and make an individual statement even in the forest, you should take a look at the Urwahn Waldwiesel. But it's not just style: it is above all a very fast and quite agile gravel bike that has decent propulsion and keeps track hard as a board. Therefore, it makes a lot of fun in normal gravel terrain with good gravel roads and forest highways. If it becomes more technical, it comes to its limits. And from my point of view, it is not intended for that.
The Waldwiesel is something for the long haul. That's where the geometry comes into play, which is still quite comfortable even after many miles off-road. Longer gravel excursions or races are therefore no problem. However, it is then tight with the drink supply, because the frame has only one pair of eyelets for it.
Bikepacking is also possible with the Waldwiesel. Bags go conditionally on it and the fork can also accommodate a lowrider. But the bike is not intended for Bikepacking, but rather as a gravel racer without luggage. This is also due to the offered transmission, which should not be sufficient in mountainous terrain. I would not have come very far with the Waldwiesel on my Harz round.
So if you're looking for a gravel bike that will take you further in sport and performance, you should check out the Waldwiesel. If you are looking for a gravel bike with which you can do Bikepacking, then you are wrong here.
The weight of the test bike was 11kg. According to the manufacturer, the system weight is 100kg 120kg. Is not much, but for the intended use of the bike ok. Heavier riders should note that but accordingly. The price starts at 4,500 euros. In the Urwahn configurator, lights, mudguards and luggage racks can still be added.
The Waldwiesel is also available in an eBike version with a 250W MAHLE ebikemotion rear hub motor.