Bicycle tires are always a very individual thing: If you look away from laboratory measurements, the performance of a bicycle tire is always a question of personal riding style, air pressure, load, the type of preferred surface and your own driving sensitivity. And so it happens that one or the other makes completely different experiences with the same tire.
I have now ridden quite a few tires and have thus also been able to gather a lot of experience. And these I pass on to you now times. I refer exclusively to the 29 inch tires ridden by me on my bikepacking tours and races. Since I ride a MTB, I have accordingly no valid experience with gravel tires, even if I could already ride some on test bikes.
Nevertheless, there is a recommendation on my part – even if this is not based on long-term experience, but on test periods of 500km + rides: Currently, I can highly recommend the Schwalbe G-One R and the Ritchey Speedmax. Both I could ride and was thrilled both by the grip in the terrain, as well as the puncture resistance. So if you ride a gravel bike, feel free to check them both out.
But here it should now be about the following 29 inch bikepacking/MTB tires:
Maxxis Ikon 3C MaxxSpeed EXO TR 2.2 inch, folding tire
Teravail Sparwood Durable FC, 2.2 inch, folding tire
Continental RaceKing ProTection, 2.2 inch, folding tire
Wolfpack Speed, 2.25 inch, folding tire
Vittoria Mezcal III TNT G2.0 XC-Trail, 2.25 inch, folding tire
An important note in advance:
I give here my individual experiences with these tires and justify my decisions and judgments. However, these are NOT based on physical or technical data and measurements, but exclusively on practical experience on my tours and races and personal assessment.
I have all the above tires with different air pressures between 2.1 and 2.6 bar ridden. Also to try out correspondingly different rolling behavior. My routes were mostly 60-70% forest, gravel, trails, rocks, mountains, desert, snow, wet, mud, slush. 30-40% asphalt and road. 50% with luggage.
Tires: An explanation
Before we start into the details, first an explanation of terms. Tires today are full of abbreviations and numbers whose meaning is not always clear even to me. Each manufacturer literally cooks its own tire soup, which is why the designations of the rubber compounds in particular are always brand-dependent. I only name BlackChilli, 4 Compound, 3C MaxxSpeed and so on.
– ETRTO
This abbreviation stands for European Tyre and Rim Technical Organisation and this has defined the current tire and rim sizes. "Previously" we have simply said: 29 inches, 28 inches, 27.5 inches or 26 inches. And then accordingly the respective width of the tire in inches or mm. The ETRTO combines this information into one specification. This is built in xx-yyy and gives information about the width of the tire and the wheel diameter. For example: 55-622, which means that it is a 55mm wide tire with an inner diameter of 622mm. 622 in this case is the diameter of a 28/29 inch wheel. 584mm is, for example, the ERTRO measurement for 27.5 inches.
There are also these specifications for rims: Here, however, the diameter is then given first and then the rim's jaw width. For example, 622-30, which is a 28/29 inch rim with an inner width of 30mm.
The ETRTO dimensions can be found on the tire sidewalls and in addition very often the information in inches. So, for example, 29×2.2 inches / 54-622. Which tire fits you, you can usually see the description of the manufacturer, which give information about maximum tire sizes and widths.
I usually give the sizes still in inches. So 29 inch tire size with 2.25 inch width, for example.
– Compound
Compound means the respective tire mixture. This is very often secret and proprietary knowledge of the manufacturer. Each company has its own compounds. I once heard: the better/individual the compound, the more expensive the tire. So bulk compounds cost less than compounds that are more intricately blended and application oriented. Maxxis, for example, has its 3C, which means that 3 different compounds are used here.
At Maxxis, the 3C tread is formed from 3 different rubber compounds in one piece, rather than being subsequently joined from two strips.
Vittoria puts one more on it and speaks of 4 compound:
Vittoria 4C consists of a coating process that combines the 4 different rubber compounds in one tread. Both the tread consists of a base and surface layer, and the side areas consist of a base and surface layer.
Teravail only says they use a Fast Compound and Wolfpack says just as little, calling their compounds only Grip and Allround Compound.
– TPI
This abbreviation stands for threads per inch. This means the number of threads built into a tire carcass. But beware: Here is times not "much helps much", because a TPI of 60 means that 60 threads per inch are installed, which are usually more robust and make a carcass more resistant than, for example, 120 TPI. Since the carcass is a bit more malleable and softer and goes more with the tire movements. I honestly look only marginally at the TPI numbers. The threads are often nylon and my current tire favorite Mezcal, for example, has a TPI of 120. The Sparwood a TPI of 60, so should be more stable.
– TLR/TL/TNT
These abbreviations stand in essence for the use of tires Tubeless, so without tube, but with sealing milk. I am a convinced Tubeless driver and have made very good experiences with it. TLR means Tubeless Ready. TL Tubeless. And TNT is a designation that I found at Vittoria. It stands for Tubes/Non Tubes, so both with tube, and without ridable.
Meanwhile, however, most relevant tires should be Tubeless Ready. But just to be on the safe side, always check. From time to time there are also notes on the type of sealing milk that may be used. For example, it should be problematic with the Maxxis Ikon (if I remember correctly) to use a sealing milk with ammonia. This can damage the tire in the long run. Whether this is all so true and still relevant, I do not know.
Teravail, for example, also still gives advice on which sealant brands are recommended to use with:
Teravail has tested all tires for compatibility with Finish Line, Orange Seal, Stans, Slime, Continental and Hutchinson sealants.
I mostly use Schwalbe, Tune or Stans. They work quite well so far. Mostly you only see how good when you have to change the coat. On tour or at races I have then usually a 60 or 120ml bottle of sealing milk with.
Tip at this point: Do not save on the quality of the tubeless valve. That makes quite a difference. I have not had the problem with all the tires presented here that they have lost air and had to be regularly re-pumped. Some hold the air directly and without re-pumping, like the Vittoria and Sparwood. The others needed one, maximum twice re-pumping, until then everything has held.
– Hooked/Hookless rims
This has nothing to do directly with the tires, but is worth a note: There are rims (aluminum) with hook, ie an edge in the inner profile, which then secures the tire with its edge. When inflating then slips the tire loud and clear with a plop under this edge and is secured against slipping / lifting while riding. The majority should still ride Hooked rims.
But there are also many hookless rims, especially since carbon rims are more and more in coming. These no longer have this edge in the inner profile and the jacket secures itself, so to speak, via air pressure and contact pressure inside. For this then apply certain values, such as the lowest pressure that is allowed and the highest that the rim can tolerate. So in this case, when choosing tires, pay attention to the usability of these even with hookless rims. I usually asked about this again, because it is rarely explicitly stated.
Practical experience: Tire evaluation in detail
Maxxis Ikon 3C MaxxSpeed EXO TR / 2.2 inch
Width measured: 58mm
Height from rim edge: no data
Weight: 645g
Price: 47 Euros
Maxxis is a renowned manufacturer of tires, which are mainly used in mountain biking. But not only there: The Maxxis Ikon was the most used tire model at the Silk Road Mountain Race 2019. And also at the Tour Divide 2021 and the Silk Road 2022, the Ikon was the second most popular model in the riders field.
I got me the Ikon because they are easy to assemble, harmonize well with many rim models and are fast. And I can confirm that so far. I had bought them for my Bombtrack Beyond, where the combination of WTB Trail Boss and DT-Swiss rim was simply impossible. The WTB tire went only with force down or on it. In practice, completely hopeless, since something to repair.
By the way, I rode the Tuscany Trail with the WTB Trail Boss without puncture (with tube) and they were basically very good off-road and not puncture-prone. But I have no valid experience and data more of this tire. Therefore, he is here no longer in the listing. The same applies to the WTB Nano, but it was very puncture-prone and offered little grip.
The Maxxis Ikon are quite fast, especially off-road, run pleasantly and also have good grip in the wet. The profile is quite open, which reduces clogging in mud and thus ensures the good grip. However, this also makes them quite loud on asphalt, which is why a bell is often unnecessary with Ikon on the wheel.
Unfortunately, they are quite puncture-prone: I was on the road with these tires on my tour through Kenya and Tanzania, but with tube. Already after 500km I had a first flat tire, followed by 10 more on the next kilometers. The Ikon are perhaps good in clean terrain, but the roads and tracks in Africa they were not even close. I then stocked up on spare tubes and patches and rode all the way to Arusha in Tanzania. There I converted to tubeless.
From then on it ran quite ok, even if I often had to re-pump because the Ikon no longer closed properly. In addition, the sealing milk, or rather the sealing slime, has formed a lump in the rear wheel by the dirt in the tyre. This was then already noticeable when accelerating – like a flywheel. After a total of 1,850 kilometers I took the Ikon then down. They were a bit worn, but would have continued to run if they had not been so puncture-prone.
A second chance I gave the Maxxis Ikon then on the Salsa. But unfortunately the high puncture susceptibility showed up again and already after 80km I had a first flat tire, which I could patch with Maxalami. More small holes followed and after 1,800km I then exchanged the Ikon for the Teravail Sparwood.
Teravail Sparwood Durable FC / 2.2 inch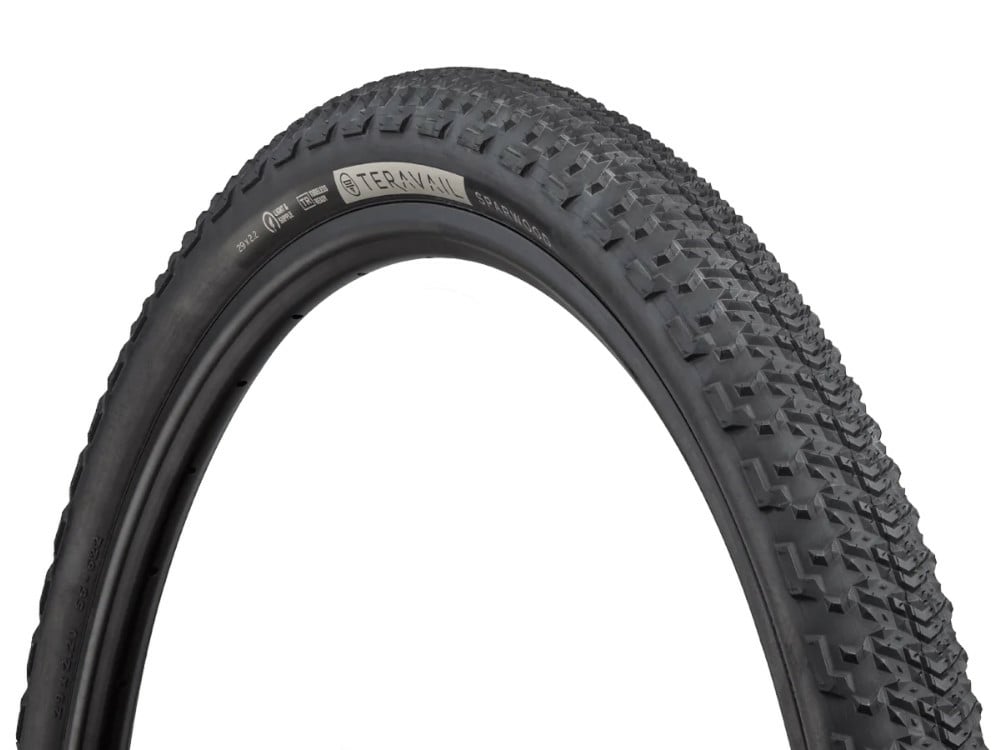 Width measured: 54mm
Height from rim edge: 51mm
Weight: 881g
Price: 65 Euro
On the Teravail Sparwood I came because they were promoted as Tour Divide tires and Bikepacking Influencer found this also good. So I ordered them and mounted as Ikon successor on the Salsa.
What I can say is: they are fast on paved roads and light gravel. But when it gets a bit more challenging, they are not adequate from my point of view. They slip both in the dry and in the wet. Very often, the rear wheel spun for no apparent reason (apart from the 8,000 watts of power from me). This made especially faster cornering an incalculable experience.
I honestly have no idea how this tire can be a recommendation for the Tour Divide.
Of course, I also tried different tire pressures. At pressures between 2 and 2.2 bars, they were quite ok, but the cornering uncertainty remained.
After 1,200km the time had come and I had a flat tire. But the milk closed the hole. After another 1,500km came the second hole, followed shortly by more. But that was ok, because the tires were then already quite worn and when the flats begin, it is often a sign of the necessary replacement. So the Teravail Sparwood have run just under 3,000km with only two flats. However, there is also a lot of material, which makes them quite resistant and is reflected in the rather high weight of 881g. In return, they can be repaired well. That is, the sealing sausages hold well in the mantle and the milk can also work well with smaller holes.
I rode the Teravail in preparation for the Silk Road Mountain Race and could also gain experience with the Schwalbe Aerothan. In the training vacation in the Harz Mountains the rear Teravail was so damaged that the milk as well as sealing sausage could do nothing. Therefore, I have then pulled in an Aerothan tube. I have either this or the Tubolito as an emergency replacement always with me.
Now I was curious, how the highly praised Schwalbe light tubes do so. Anyway, after 80km I already had the first hole in the Aerothan. In the meantime, I have had to discard the Aerothan, because they have very often got holes and I do not always find them. They are such small holes that can not be determined even in the water. Too bad, especially since at the rather high price. As an emergency hose completely ok, but on more I would not rely on the Aerothan.
By the way, a Sparwood rides with tube still on the Bombtrack bike. Although has regular flats, but is ridden down as a city bike tire.
Continental RaceKing ProTection / 2.2 inch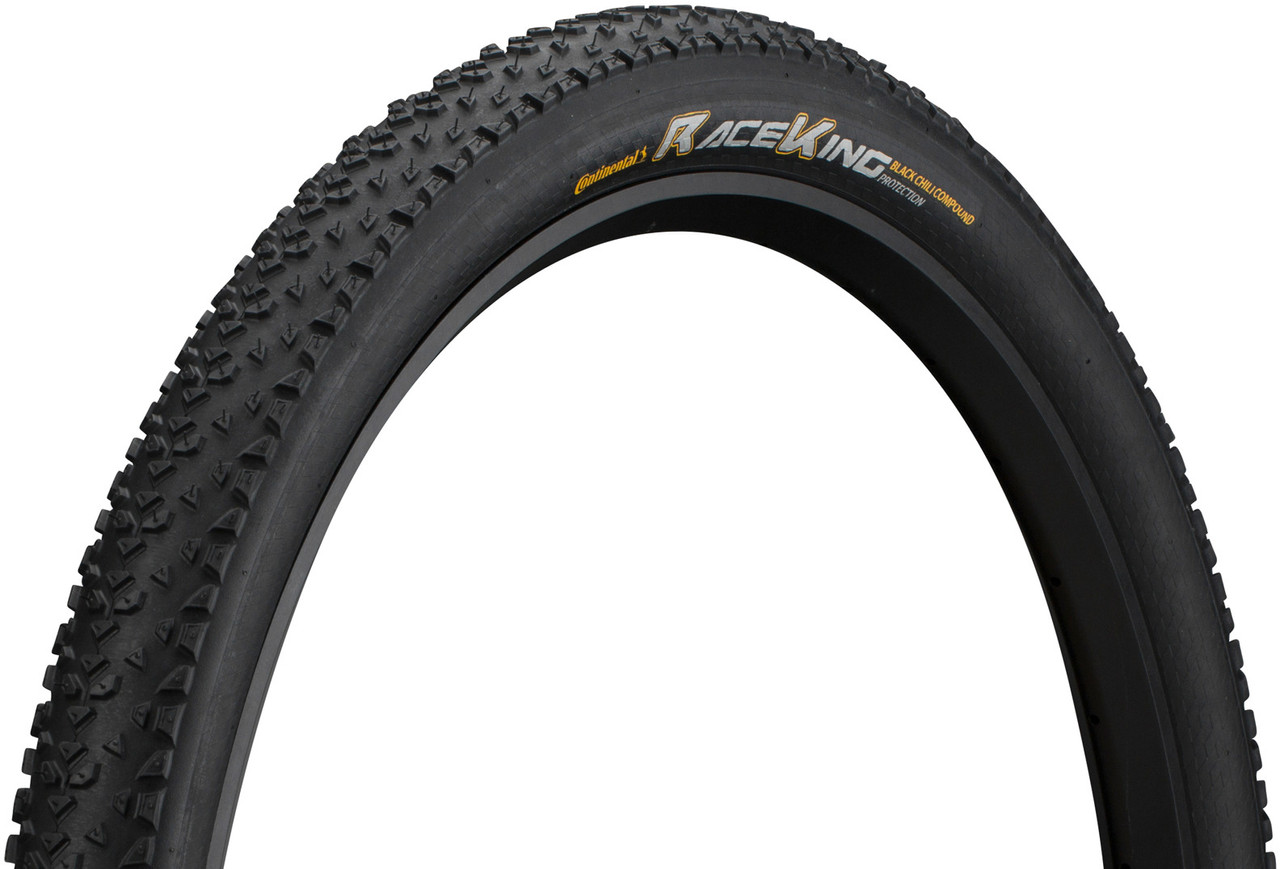 Width measured: 53mm
Height from rim edge: 54mm
Weight: 605g
Price: 43 Euros
As part of my training, I also rode a few Orbit360 in 2020. The bike came from Atlas Mountain Race and had Vittoria Mezcal tires on it. For the Orbits, however, I wanted to see if I could find faster tires. My choice fell on the Continental RaceKing with the BlackChili compound, so built in Germany.
And indeed, the tire lives up to its name, because it is already very fast. The grip was ok in the dry, in the wet rather less and slippery. In return, the terrain left hardly any traces in the profile and the abrasion was quite low. So far so good. But you guessed it: after only 400km I then had a flat tire. Unfortunately, the cut on the tread was so large that even the milk did not get it tight. And the Maxalami sausages slipped out again and again as soon as the tire was moved. And once I had such small holes that for whatever reason the sealing milk didn't seal and were too small for the sausage, even the 1.5mm thick one.
On this occasion as an info: Of course I didn't put high pressure on the tire right away, but allowed time for the milk and sausage to bond. And of course I have tried other methods of tubeless repair. For example, the Notubes Darts. They're fancy, but you often can't get them in the holes. They have to be big enough for that. And sometimes the plastic tip of the darts just breaks off. Or I'm just too stupid. But I'll try out other variations in the future, because I'm still looking for alternatives to Maxalami. If you have any tips that have worked in practice, feel free to share.
And of course I'm also trying out different sealing milk variants. Currently Stans, Tune and Schwalbe. I will also look at the Stans Race milk, which forms quite large flakes and thus hopefully closes better.
After only 1,000km I have removed the RaceKing then again. They were too puncture-prone. A RaceKing but still rides on the Bombtrack in city bike mode and with tube on. The wear is still very low. A good tire actually…
Wolfpack Speed / 2.25 inch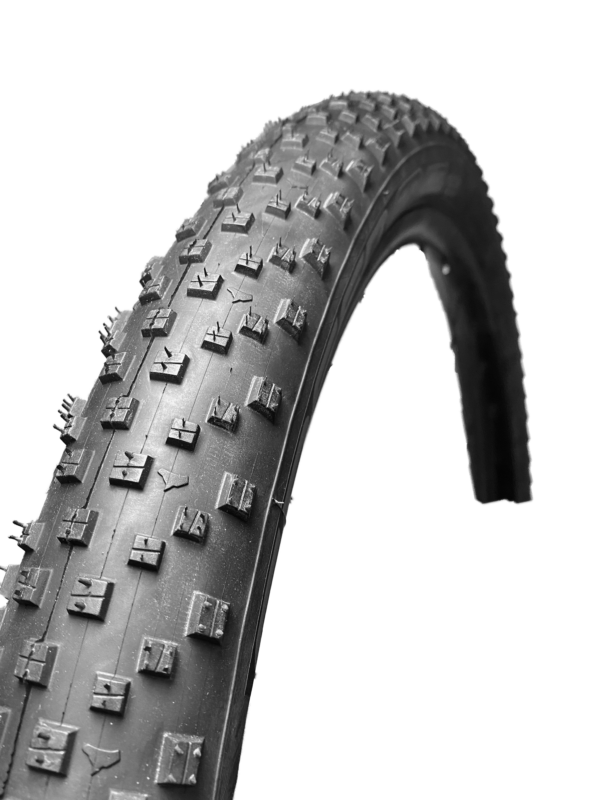 Width measured: 60mm
Height from rim edge: 53mm
Weight: 590g
Price: 40 Euro
I became aware of the Wolfpack Speed through Jochen Böhringer, who has been riding with it for some time and has successfully completed the Italy Divide, among other things. I also found the feedback on the tire quite positive and therefore decided to try them out. Behind Wolfpack is Wolfgang Ahrenz, who is considered a very good compounder and has already worked for many major brands.
And indeed, I am thrilled by the Wolfpack Speed: such a fast tire with excellent grip I have never had. In the dry top, in the wet still really good. And they are light: with 590g in the field of previous tires simply the lightest. And they can be mounted very well and without tools and close immediately tight, even without a compressor.
The profile is quite open and at the same time fast due to the knob height and positioning not only off-road, but also on the road. The noise is already high, but not as much as the Maxxis Ikon.
But are they also top in terms of durability and puncture resistance? Unfortunately, not really. After 400km I had a large cut in the front tire (would have been problematic for all tires), which could not be closed properly even by 3 sausages. In addition, these have always wandered out by moving while riding. And also the sealing milk did not work at all with these tires. There nothing at all happened. I then had to replace the front tire and will patch the cut with a tire patch from the inside then.
However, after 1,200km then also the rear wheel was next: here it was only a fairly small hole. But again the sealing milk did not work. By the way, I had Schwalbe milk in the front and Stands milk in the back. The hole was actually minimal and should be closed by the milk. But unfortunately did not work, for whatever reason. That just bubbled away. Maybe there are simply rubber mixtures that prevent this? If someone here has a clue, please reference. I have also been able to observe this on other tires: with some, the milk works very well and without problems. With others not at all or little.
And since a hole rarely comes alone: I have repaired that with Maxalami. But the next day I had again on the rear wheel three holes at once. Off-road on a trail descent. The holes were also small enough for the milk, but again without effect. So I had no choice but to pull in the tube. This time I have Tubolitos in use. They are sealed for the time being, but their valve is so sensitive that it bends very easily. This then led to the fact that, although I was really careful when inflating, the air escaped again and again over the defective valve. I then bent that straight again and so fixed, but that's crap when you're really on the road and rely on these tubes. In addition, the valves of the Tubolitos are not designed for pumps with simple clamp head. I have used the Silca Tattico pump and there the valve kept slipping out of the pump head. Since would probably be a screw head like the Lezyne Microfloor better. This screw head, by the way, is not good at the Aerothan. There in turn a clamp head is better. You notice it already: all this is not quite mature yet. Anyway, the Tubolito are sealed so far for now.
In addition to the breakdowns I had to determine but a high abrasion. Already after 700km this was clearly advanced. Too bad actually, because I really hoped to have found a faster and lighter alternative for my Bikepacking tours and Races.
Vittoria Mezcal III TNT G2.0 XC Trail / 2.25 inch
Width measured: 58mm
Height from rim edge: 57mm
Weight: 735g
Price: 52 Euros
Whatever I try: in the end I land on the Vittoria Mezcal tires. These are not for nothing the most used tires in the Silk Road Mountain Race 2022, the Tour Divide 2021 and the Atlas Mountain Race 2020.
I have ridden in Morocco as well as Kyrgyzstan with the Mezcal and have never had a more reliable, puncture resistant and durable tire. Why I ever actually tried any others? I ask myself the same question, but also refer to my credo: I prefer to have practical experience rather than just a theoretical opinion.
The Mezcal are of course quite heavy with over 700g, but run for it quite easily. They can be mounted well and are immediately tight. A re-pumping is often not necessary. In addition, the sealing milk works very well with these tires.
They were with me at the Atlas Mountain Race and I had no breakdown there. After the 1,200km race through the Moroccan mountains, they also had only minor wear marks and I still have a Mezcal coat from that time in the basement. That's remarkable, because the course was very rough and technical and, among other things, caused my rear rim to break on both sides. In total the Mezcal ran 4,000km without a puncture and then had a rather large cut due to a piece of metal in the sand. After another 1,500km (total 5,500km) I then bought a new set of wheels and then mounted new tires (Maxxis Ikon) with them.
When changing, I could see again how good tubeless is: on the inside of the mezcal, you could see the small lumps of sealant that have attached themselves to small holes and thus closed them, without me noticing it while riding. With a tube, I would have had to patch each time.
I also had the Mezcal in use in Kyrgyzstan. And even here they have more than proven: one tire remained completely sealed, the other had after 400km two cuts by stones, but I could repair with Maxalami and sealing milk so well that the tire has held the other 1,500km without problems.
And I would claim that the loads of these races are quite double, if not triple an everyday use.
But the damaged jacket then had to be replaced back in Germany. The front mantle is still alive and has run a total of 4,200km (including SRMR). Now he is in the basement and will then be rebuilt. His profile is still very good, little worn and the can certainly still run 2,000km. At least.
Vittoria built the Mezcal in the trail version of the TNT carcass, which acts particularly against damage to the flanks. And the 4C Compound, whose combination of four compounds obviously works very well. Of course, this makes it a bit heavier, but if it is so good, I gladly accept it.
Whether in the dry or in snow, ice and rain – the Mezcal are literally all-rounders that deliver very high performance. They roll very well for it and for their weight and are fast whether off-road or on asphalt. And although the profile is somewhat denser, they do not clog quickly and also tolerate decent mud and peanut butter. Thus, they are absolutely the best choice for my needs and I will so quickly make no further experiments. Although: the Vittoria Barzo would also still be an alternative, if it goes much into the terrain. As I could see, they were also used puncture-free in Kyrgyzstan and also on the Highland Trail 550.
I ride the Mezcal in 2.25 inches with 2.2 to 2.4 bar. Tobias had the 2.35 inch ones in use in Kyrgyzstan and we also saw 2.6 inch wide Mezcal riding and finishing successfully there. They are very easy to repair, respond well to sealant (Schwalbe and Stans in my case) and also sew up well when the sidewall is torn open.
Overview practical experience tires
Model (all Folding tires)
Width in inches
Width measured
gemessen
Height from rim edge
Kilometers to first puncture
Total mileage
gesamt
Weight
Price
Maxxis Ikon 3C MaxxSpeed EXO TR
2,2″
58mm
k.a.
80 & 500km
1.850km
645g
47 Euro
Teravail Sparwood Durable FC
2,2″
54mm
51mm
1.200km
> 3.000km
881g
65 Euro
Continental RaceKing ProTection
2,2″
53mm
54mm
400km
1.000km
605g
43 Euro
Wolfpack Speed
2,25″
60mm
53mm
400 & 1.200km
1.300km
590g
40 Euro
Vittoria Mezcal III TNT G2.0 XC-Trail
2,25″
58mm
57mm
400 & 4.000km
> 5.000km
735g
52 Euro
And now…
… of course I am curious about your experiences, which you might have made with the same tires. Of course there are other tire models and brands. You are welcome to add and point out if you have practical and relevant experience with them.
And yes: Rene Herse Fleecer Ridge is certainly a wonderful tire. But almost 100 euros per tire even with probably slightly longer life than some other tires (Mezcal excluded) I can not justify for me. Especially when you look at how often Sofiane has had to repair his tires at the Tour Divide or the Silk Road Mountain Race, where he had these in use according to my info.
Personally, I would like to see the same thing happen with cars or motorcycles in the future: tubeless tires (also for off-road use) that are not so prone to punctures and simply run for years. But that's probably not technically possible (yet). Who has here idea (from practice, not from the Internet), can gladly reference. I would be really interested to know what we can still expect here and why certain things just don't work yet. But at least the topic of recycling seems to be working now. So let's hope that the Schwalbe recycling efforts prevail and become standard and obligation in the market.